There are two places to control the layout and arrangement of images in your galleries: Customize Design and Gallery Settings. In Customize Design you'll choose the settings for your gallery styles. In the Gallery Settings you'll choose which gallery style to apply to the gallery.
Customize.
While logged in, select Site from the navigation bar, then select Customize Design.

Then click the Layout tab. Here you can choose between a stretchy and a fixed-width layout for any of the pages on your site.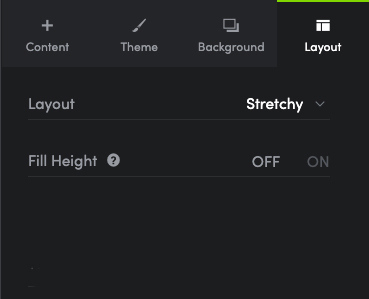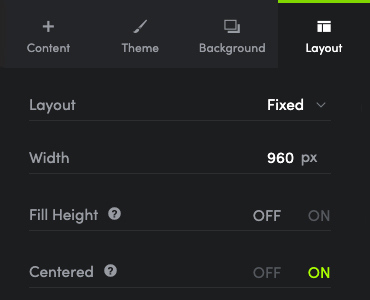 The stretchy option will detect the size of the viewing platform being used—be it super-large screen or small mobile phone—and will automatically fill it with your page elements, reducing the amount of empty space on the page.
To edit the settings for any of the gallery styles, click on the Content tab and mouse over Gallery to reveal and select the wrench icon. Alternatively, you can mouse over the gallery area on the page, then select the wrench icon to edit the block.

Gallery settings.
Gallery styles determine how your images are arranged on a page. To change the gallery style for a gallery, visit the Appearance tab of the gallery settings.
Some gallery styles have settings unique only to those styles. For example, only Thumbnail, Collage Landscape, and Collage Portrait styles offer the ability to add a custom cover image to the gallery. Additional details about the different gallery styles are available in this article.
There are a few ways to change the gallery style for your galleries:
Within the Site: View any gallery and click on the settings button in the section bar.
Within the Organizer: Select a single gallery and click the settings button in the top left.
Within the Organizer: Highlight more than one gallery or folder at a time, click the settings button, and open the bulk gallery settings. This allows you to change the settings for all the galleries you've selected, even those contained within folders you've selected.
If you'd like to have all galleries on your site use the same gallery display style, consider using a gallery preset.