Did you receive a special invitation to view photos? That means you know a photographer who wants to share some great photos with you. To accept their invitation and view the photos they've given you access to, follow the steps below. At the end, you'll have your own, free, guest account and be able to post comments on photos you admire!
Accept your invitation.
You should've received an email from us with your invitation. If you haven't seen it and the photographer has sent it, check your spam folder for a message from no-reply@smugmug.com. If you still don't see it, contact your photographer directly to ask for the invitation to be resent.
Below is a sample of the invitation you'll receive: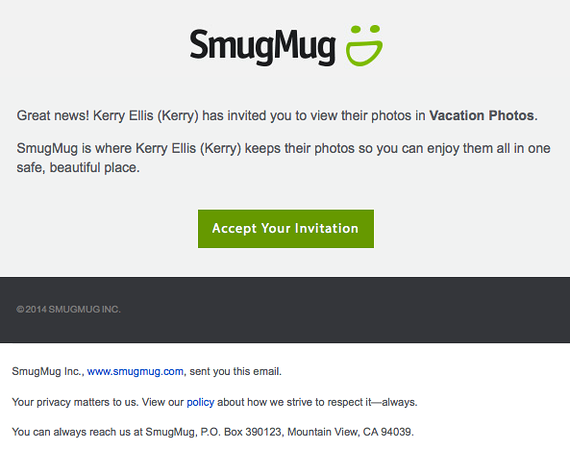 Click the Accept Your Invitation button to be taken to SmugMug to create your guest account, or log in to an existing SmugMug account.
Create a free guest account.
Select Create a Free SmugMug Account if you don't already have a SmugMug account.

You'll be prompted to enter your name, email address, and a secure password for your account creation.
Tip: You don't have to enter the same email address the invitation was sent to. But the invitation only works once, and is uniquely yours, so you'll be unable to create another account using that email. If you accept the invitation and then forward the email to someone else, the invitation won't work for them. They'll need to get their own special invite from the photo owner.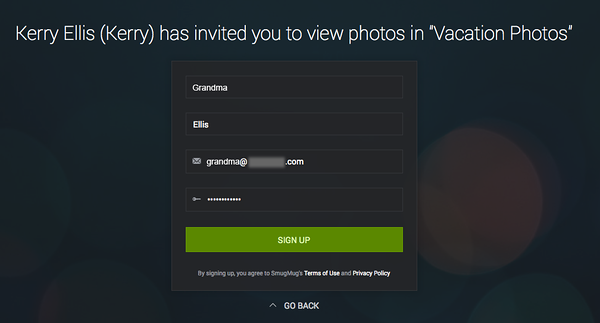 Once you've entered your information, click Sign Up. You'll be taken to your Shared with Me page, which shows the photos you've been invited to view.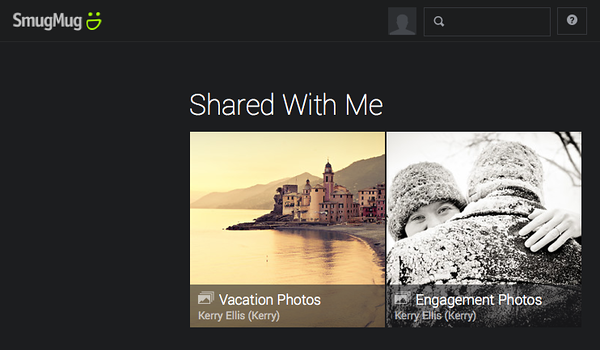 Click on a shared gallery to start exploring the photos that've been shared with you!
Log in to an existing SmugMug account.
Select Log In below Already Have a SmugMug Account? to log in to your SmugMug account.

You'll be prompted to enter the email address and password for your existing SmugMug guest or paid account. Enter your info and click Log In.
Once you've successfully logged in, you'll be taken to your Shared with Me page. Have fun exploring the photos that have been privately shared with you.