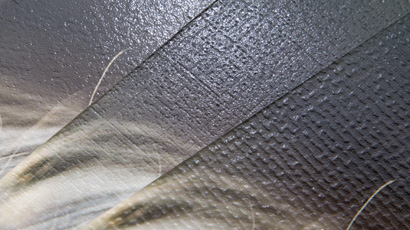 Bay Photo and WHCC.
Kodak Professional Endura paper is used for all lustre and glossy prints. Fuji Crystal Archive Pearl paper is available at Bay Photo.
Bay Photo also offers fine-art prints on special papers such as Moab entrada bright rag, Epson premium luster, breathing color elegance velvet, Canson rag photographique, Epson hot press bright white, and Epson exhibit fiber paper. These papers offers unique textures and tones to make your photos shine. You can read more about each on Bay Photo's site.
Loxley.
Fuji Professional DPII paper is used for both lustre and gloss finishes. Kodak Professional Endura paper is used for metallic. 
Specifications and characteristics.
Lustre: Lustre is our premier paper offering and is considered a professional-grade paper. Lustre has a slight gloss with a subtle, often pearl-like, texture. Lustre paper has deep color saturation with high contrast and is materially "thicker," or heavier, than consumer paper. And it has none of the glare associated with glossy prints!
Glossy: Coated paper with a very smooth, shiny, reflective surface. Glossy finishes have a high-contrast appearance and look slick to the touch when not under glass. This finish has an excellent dynamic range and color—with slightly more "pop", though less noticeable once framed. Photos will have a shiny finish, colors will be vibrant, and images will be crisp and sharp.
Pearl: Pearl paper features great sharpness with a distinctive pearlescent finish and metallic reflection. The pearl finish allows for high-intensity colors, providing warmth and depth to your prints.
Below, both the lustre print (bride) and glossy print (Darth Maul) look good in the absence of glare.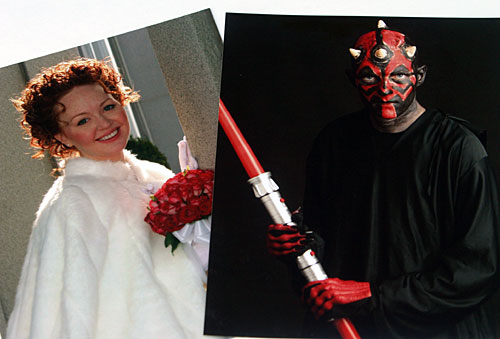 But when the angle changes, glare becomes far more evident on the glossy print (right).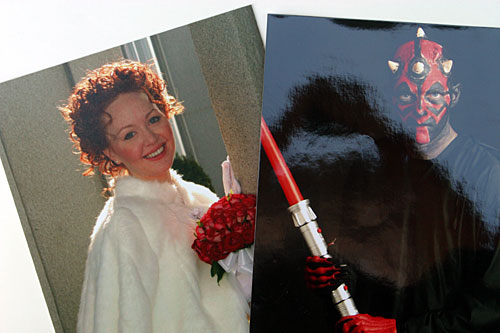 Lustre has a satin-like sheen and a modestly textured surface that you can see when the light angle is just right.
Watermark info.
Fujifilm papers are watermarked on the back as follows:
Fujicolor Professional Paper
If copyright applies, permission to reproduce required
Kodak papers will have a Kodak Royal watermark on the back, or a Kodak logo that looks like a page with the corner turned over.
Longevity. 
Fujifilm and Kodak are archive-quality papers, designed to last for generations.