Love editing your photos with Luminar 4? SmugMug is integrated within Luminar 4 so once you have your photos picture perfect, you can upload them directly to your SmugMug site without leaving your photo editor.
Note: You can only upload one photo at a time, so even if you have multiple photos selected, only the photo framed in gold will be the one uploaded.
To get started, you'll want to make sure you're in the standalone Luminar program and not the plug-in version for Photoshop or Lightroom. Then, go to File > Share > SmugMug.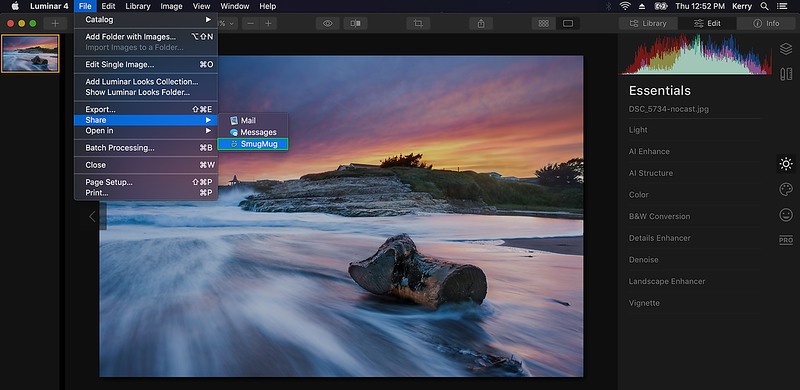 If this is your first time using the upload-to-SmugMug feature, you'll be prompted to log in to your SmugMug account and authorize Luminar's access to upload photos to it.
Enter your SmugMug account username and password, then click the Log In button.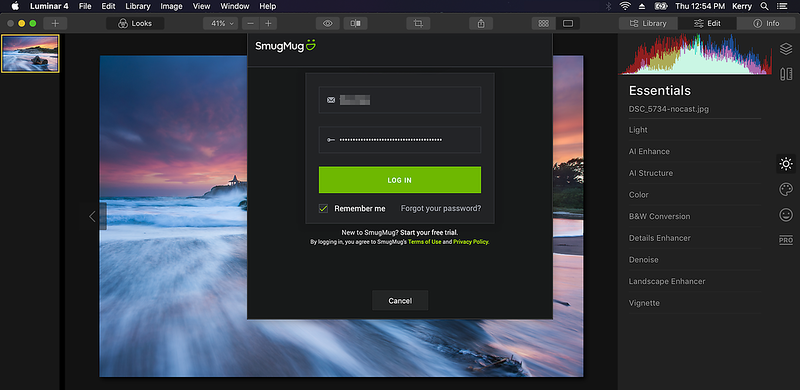 Follow the on-screen prompts to grant Luminar access to your SmugMug account. This gives Luminar permission to upload photos to your public SmugMug galleries. (Don't worry, you can change or revoke this access any time within your SmugMug account. Check out how to do that below.)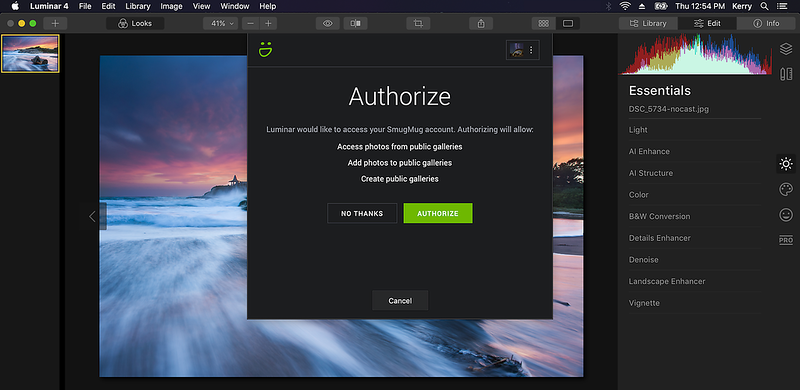 Once authorization is complete, you'll see a confirmation message pop up within Luminar.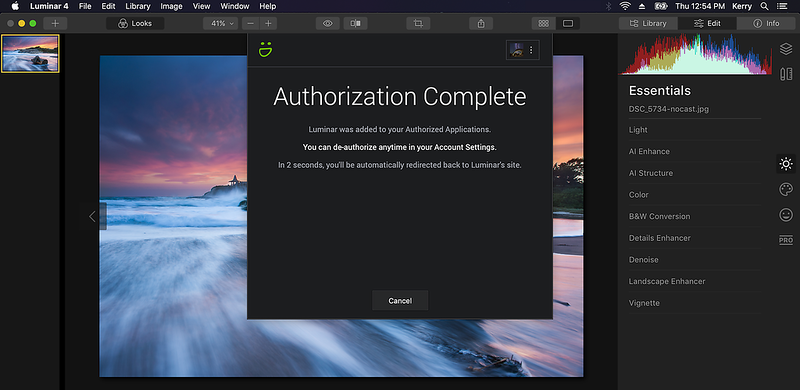 Now that you've got the secret handshake out of the way, you can enter all the fantastic details about your photo that will appear in your SmugMug gallery. Fill out as much or as little information as you want! Give your photo a title, caption, and keywords if you like.
The only required information is choosing which gallery you want to upload your photo to. Select this from the drop-down menu near the bottom left of the Share to SmugMug overlay window.
Note: If you're uploading immediately after first authorizing Luminar's access to your SmugMug account, only your public galleries will be available from this drop-down menu. You can change this later by adjusting Luminar's permissions within your SmugMug Account Settings.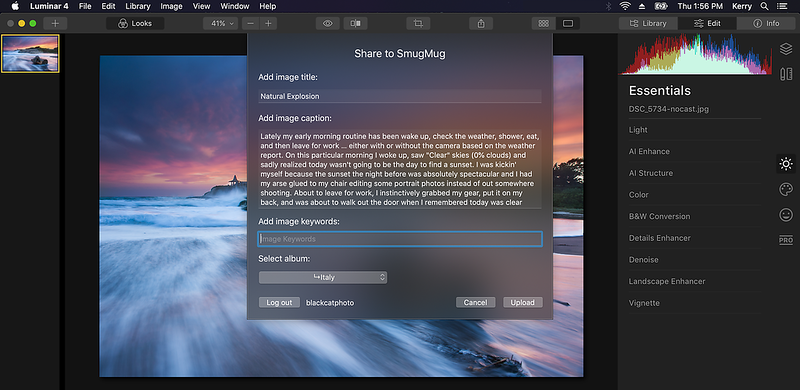 Once you've got everything filled out the way you like, click Upload and relax as Luminar takes care of getting your gorgeous new photos onto your SmugMug site. A window will show the progress of your upload and automatically disappear once the upload is complete.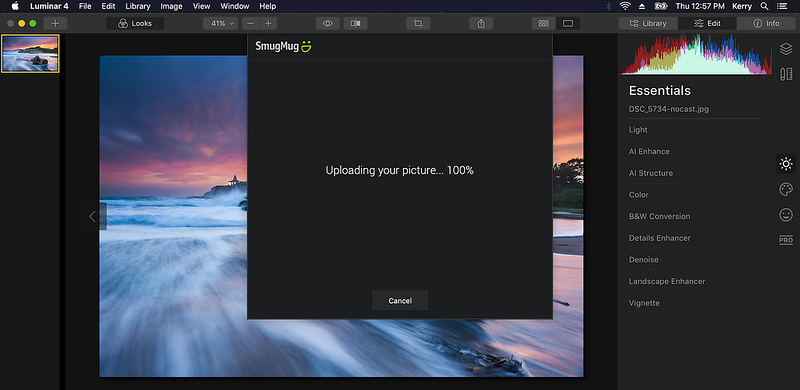 Change or revoke Luminar's access.
To change or revoke Luminar's access to your SmugMug account, make sure you're first logged in directly to your SmugMug account (and not in Luminar).
Then go to your Account Settings and the Privacy section. Scroll down until you see the Authorized Services section, under which you should see Luminar listed.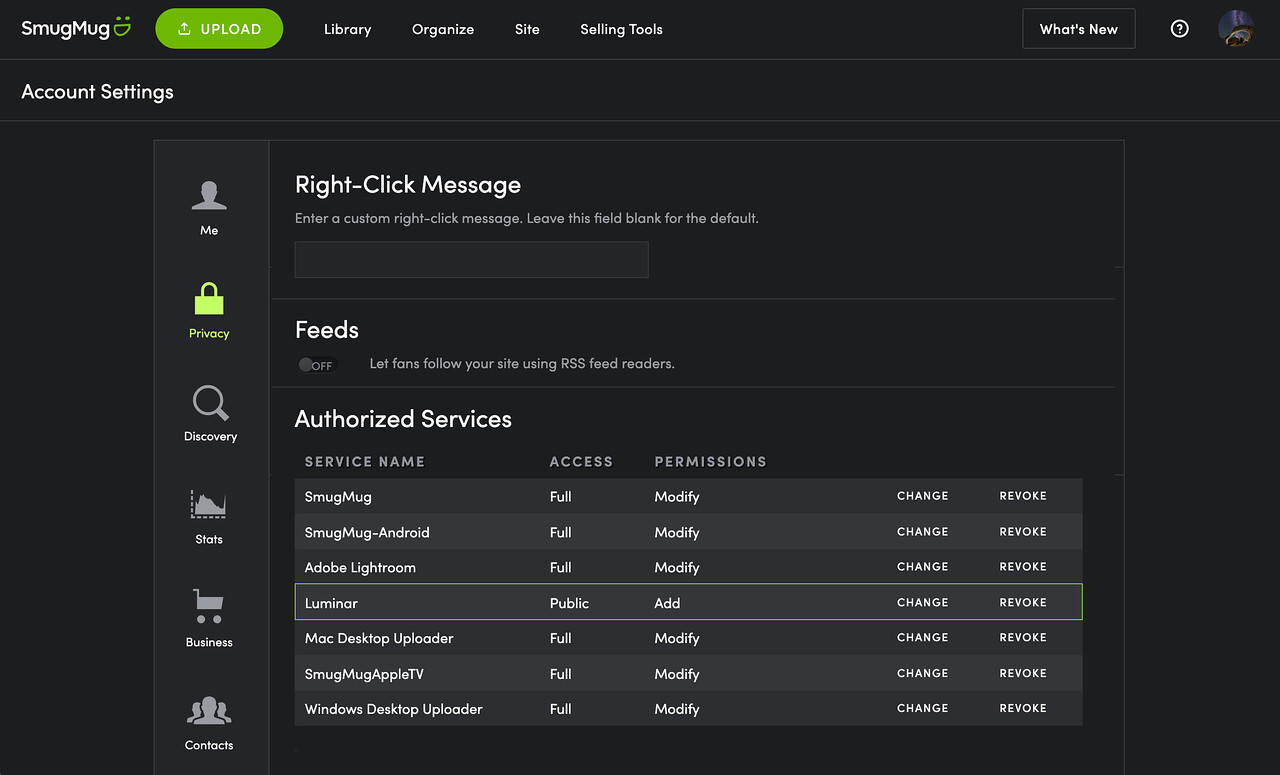 If you'd like to be able to upload to Unlisted galleries from Luminar in the future, click Change and then change the access from Public to Full.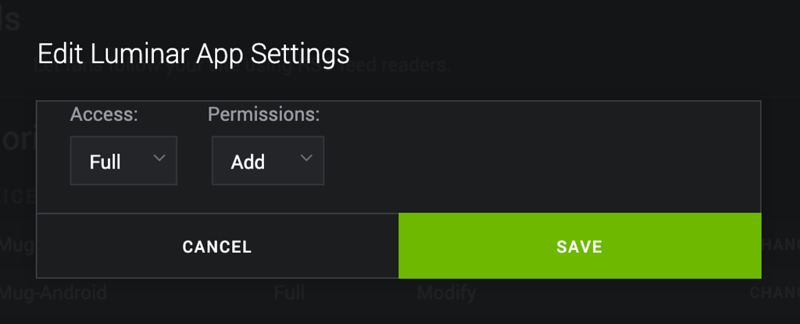 If you no longer want Luminar to be able to upload to your SmugMug account, click Revoke. All access and permissions for Luminar will be removed from your SmugMug account.