Your brand rocks. Show it off by putting your logo and name on your site. From monitor to mailbox, your customers will keep you in mind.
Users with our highest-level seller account can send a thank-you note with each print order and get a custom sticker placed on the outside of the shipping package. Unlock all these options from the Branding section in your Selling Tools.
Confused about which lab offers what? Scroll to the bottom for the short version.
Set it up.
You can toggle the different kinds of branding on and off in your Selling Tools Branding Printing section.

This is the sitewide switch, but you can also fine-tune this setting at the gallery level. Check your gallery settings and the Shopping tab for the Brand Packaging toggle.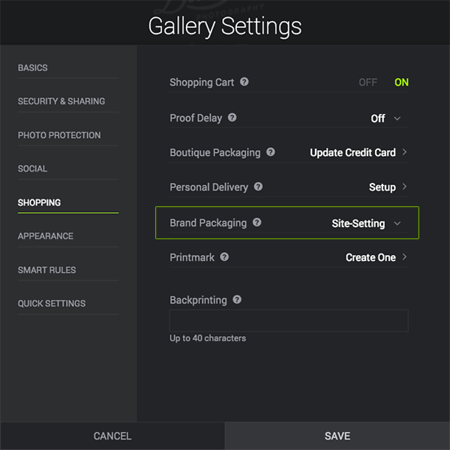 Thank-you prints and/or stickers are only $1 per order, per lab. This pro services charge is deducted from your sales profits, or charged to your credit card on file if your profit on the order is less than $1. Please make sure you have a valid credit card on file in your Account Settings so we can include your branding each and every time. Pro services charges are made on the 1st and the 15th of the month.
FYI: Our default SmugMug branding and packaging take effect on all multi-pro orders.
Thank-you prints.
Impart a personal message with each order. Upload a JPG file that's at least 800 x 1200 pixels in size, and we'll make it into a 4x6 print to be included with the rest of the goods your customers order. Keep the 2:3 ratio if your file is bigger.
See an example of a thank-you print from Bay Photo in action!
The finish on your thank-you print will match the prints in the order. This means your thank-you note will be glossy when your customer orders glossy photos, and so on.

Note: If you use Bay Photo, thank-you prints can be added to any shipment of prints, merchandise, or both.
Box stickers.
No more boring boxes! This option allows you to customize a small sticker we'll place on the outside of the shipment packaging. Make sure your file is a JPG at least 400 x 200 pixels in size, but if it's bigger, keep the 2:1 ratio. This is the first thing customers see on delivery, so make a great first impression!

Both Thread Studio (formerly EZ Prints) and Bay Photo stickers are 2" x 4" in size. Keep the content simple, and it's a good idea to give enough breathing room around the edges to make sure the bleed/trim zones don't contain important information. Design accordingly!
Note: Thread Studio can include stickers on any order that contains merchandise items. Bay Photo orders will always include one as long as you have stickers enabled.
WHCC and Thread Studio bonus: You can also specify text for the return label if you've picked an image for your sticker. Consider typing your name or business name to make sure your customers know who their order is from.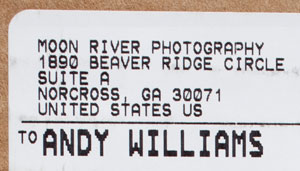 If you enable the sticker branding option but don't fill anything in for the return label, we'll print the "display name" you have set in your Account Settings.
The address will always display the address of the print lab, so your personal info is never revealed.
Which labs offer what.
Thread Studio: If orders contain merchandise: stickers.
Bay Photo Stickers and thank-you prints are available for all orders. Packing slips are not included in orders that contain thank-you prints or custom stickers.
WHCC No stickers yet (sorry!). Thank-you prints are available for all orders.
Loxley Colour Stickers and thank-you prints are available for all orders.
Custom return address is available for all Thread Studio and WHCC orders only.