Most photo-sharing sites shrink your originals to save space. Not us!
With SmugMug, you get to keep every pixel forever and show them as big as your screen will allow. Upload once, and we'll make up to 12 display copies from each file.
The Sizes of SmugMug
 
Pixels wide
Pixels high
Tiny thumbnails (-Ti)
Up to 100
Up to 100
Large thumbnails (-Th)
Up to 150
Up to 150
Small (-S)
Up to 400
Up to 300
Medium (-M)
Up to 600
Up to 450
Large (-L)
Up to 800
Up to 600
XLarge (-XL)
Up to 1024
Up to 768
X2Large (-X2)
Up to 1280
Up to 960
X3Large (-X3)
Up to 1600
Up to 1200
X4Large (-X4)
Up to 2048
Up to 2048
X5Large (-X5)
Up to 2560
Up to 2560
4k (-4k)
Up to 3840
Up to 3840
5k (-5k)
Up to 5120
Up to 5120
Original (-O, max 210MP)
Huge
Huge

We do not up-size your images. For example, if your original photo is between SmugMug's Large and XLarge sizes, we'll only create the Thumbnail, Small, Medium, and Large display copies. 
Choose the maximum display size in your gallery settings.
You can choose not to display your original, high-resolution images by selecting a maximum display size in the gallery settings. Choosing a maximum display size doesn't affect the printing quality of your images. When your admirers—or you!—order prints through SmugMug, your original, high-resolution image will be sent to the printer.
To update your maximum display size, navigate to your gallery settings and select Photo Protection from the sidebar tabs, then choose your preference from the maximum display size drop-down.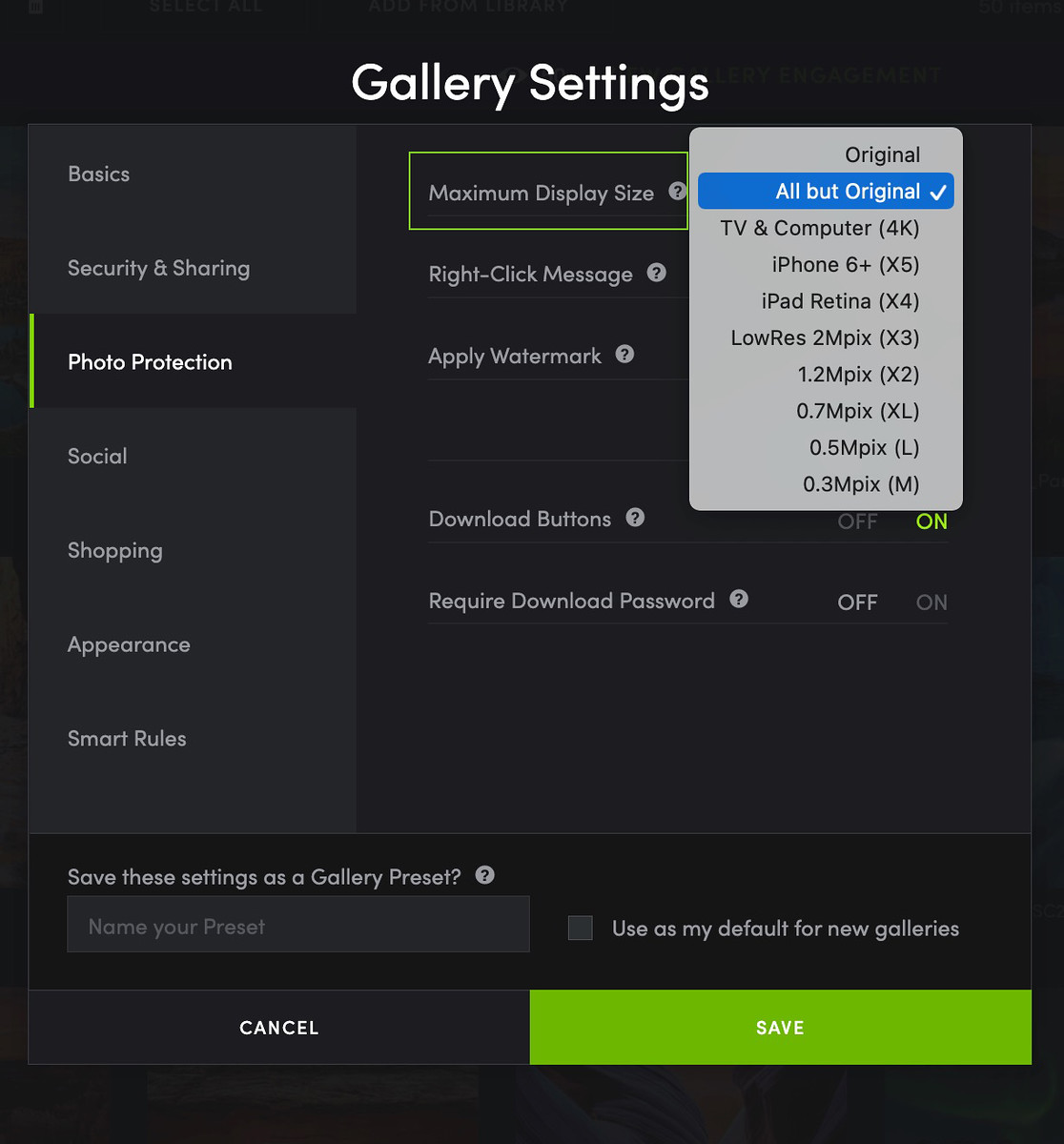 Adjust the display size of an image within the URL.
If you're sharing your photo outside SmugMug, you can select a display size for your photo by choosing a specific link in the share panel.
First, click on a photo to open it in lightbox view. Select the share icon in the upper left, then click the Embed tab. Choose a size from the drop-down menu, then copy and paste that URL to where you'd like to embed the photo.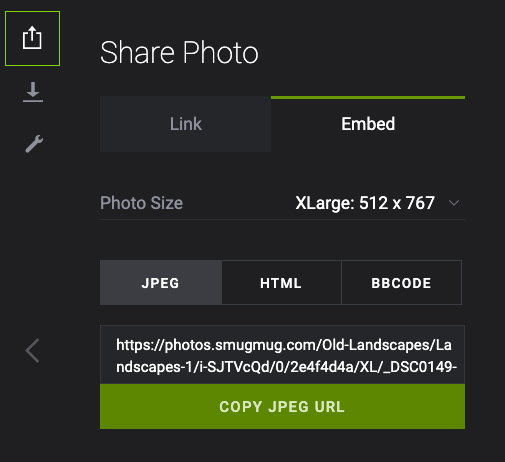 If you've previously shared a photo elsewhere and then later want to change the size of your photo without going all the way back to the share panel in your account, you can. Take this example image link that we previously grabbed from our share panel:
https://photos.smugmug.com/Seascapes/i-dtPnkfB/0/dcbdbeeb/X3/DSC_5734-nocast-X3.jpg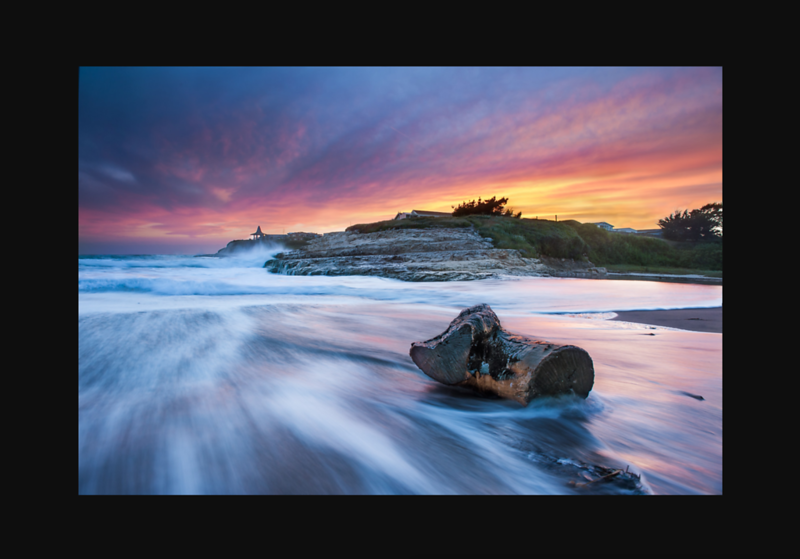 To adjust the size of the image, change X3 in both places within the URL to XL (or any other SmugMug display size).
...X3/DSC_5734-nocast-X3.jpg
...XL/DSC_5734-nocast-XL.jpg
You'll then have the URL seen below, and you're all set.
https://photos.smugmug.com/Seascapes/i-dtPnkfB/0/dcbdbeeb/XL/DSC_5734-nocast-XL.jpg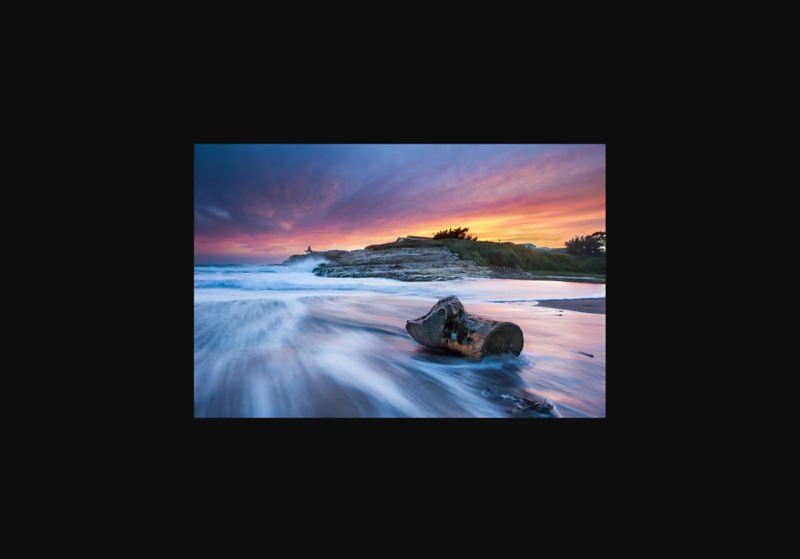 Note: We'll only render an image as large as your maximum display size setting within your gallery's settings.