Use your photos and videos in powerful new ways with our background tools!
Wow your visitors no matter how they visit your site—be it on a large screen or a mobile device. Your background is sure to always stun, no matter the size. One size doesn't fit all screen ratios, but we smartly scale based on the device to make your background look its absolute best. We recommend trying out your background on several computers or devices to see how your visitors might experience your site, however they resize their browser window.
You can add a single image, a series of single images, a video, or a slideshow as the background of your homepage (all accounts). Power, Portfolio, and Pro accounts can also add unique backgrounds to any folder, gallery, or page.
The background sits behind other content blocks you've added in the same way that a color, texture, or graphic added from the Theme tab does.
Basic setup.
You'll find your background settings by going to Site in the navigation bar, then selecting Customize Design in the section bar. (Want more advanced options? Check out below!)

Pick which page, or set of pages, you want to be working on. This content can be consistent on every page on your site (pick Entire Site), unique to your homepage, or different on each folder or gallery. The choice is yours.
Click on the Background tab in the customize panel (it's between Theme and Layout).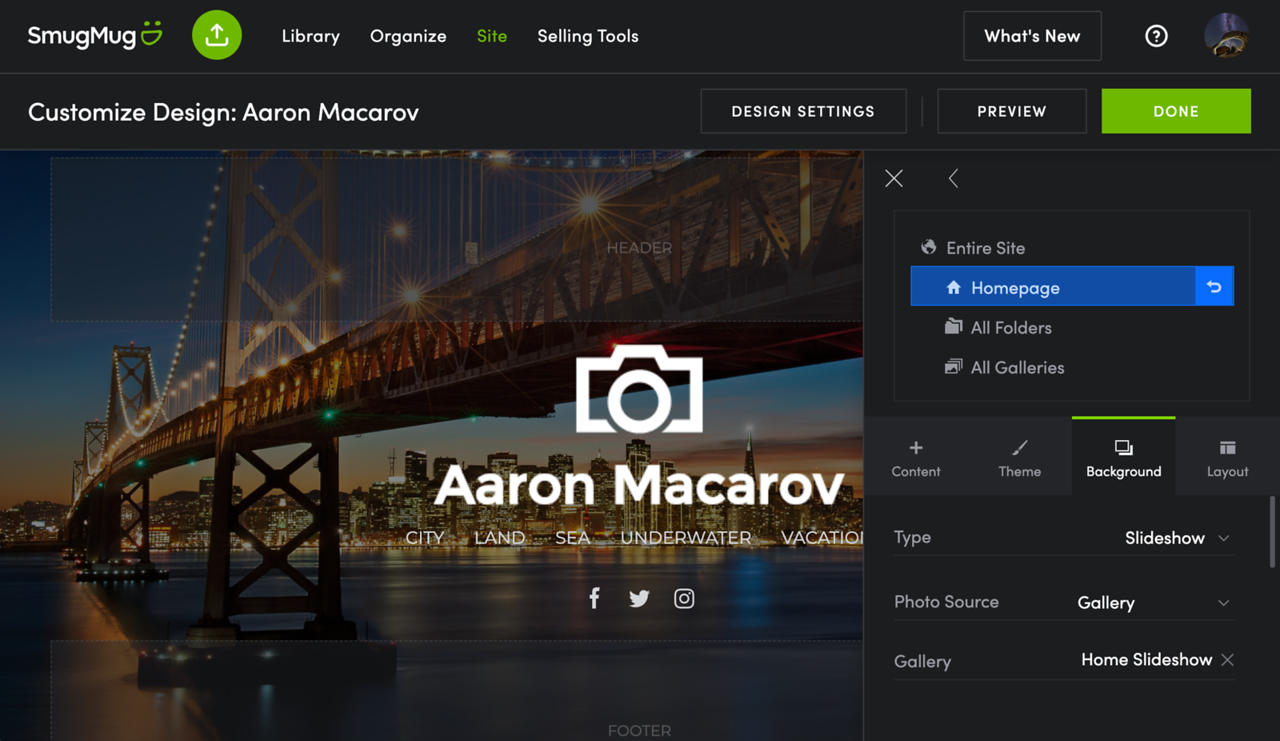 To change this and add a full-screen video, full-screen slideshow, or a series of background images to any location on your SmugMug site, click the drop-down menu to choose the type of background content to add.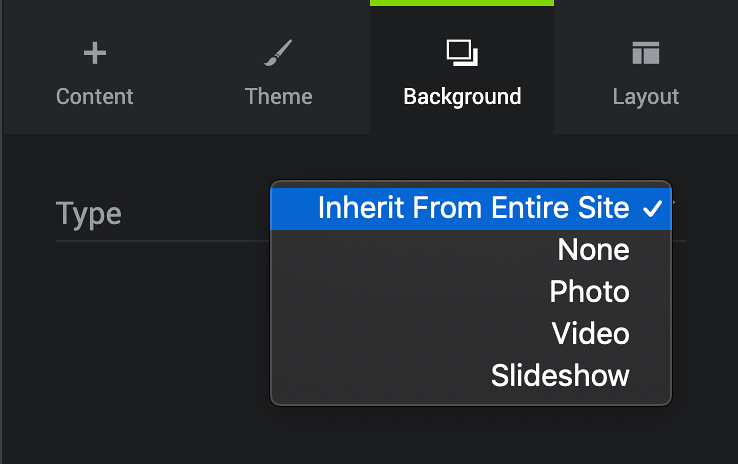 Choosing None will cause the Theme's color or texture to display. But there are some really exciting choices:
Photo: Select any photo from your site to create a full-screen photo background. You can choose:
Video: Choose a video from your site to create a full-screen video background to engage your visitors. Videos must be less than a minute long and cannot be trimmed after uploading, so make sure you trim your desired video to less than a minute before uploading. You can choose:
Your video
Whether to play the video once or loop it continuously
A fallback photo for when your visitor's connection speed can't immediately load your video
Masking over your video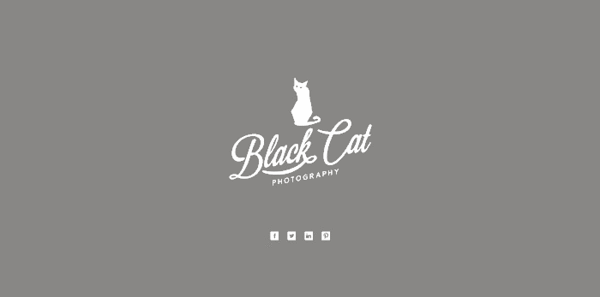 Slideshow: All the control you ever wanted over a full-screen slideshow. You can choose:
Your images
Playback speed
Transitions and transition speed
A splash image to entertain your viewers while the full slideshow loads
Whether to randomize the order in which your images play
Masking over your images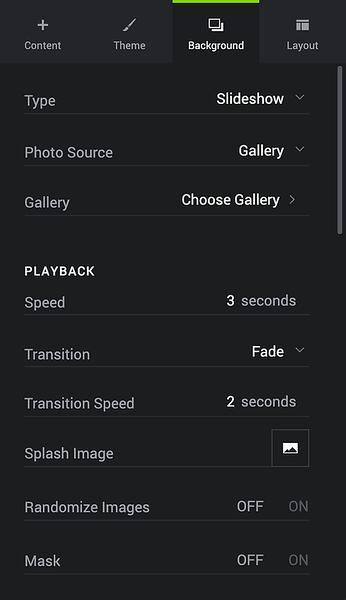 Change the background photo with each visit.
Yep, you can add a rotating series of photos to your homepage or other pages on your SmugMug site. Entertain your visitors with a new image each time they visit your account.
To do this, choose the Photo option from the Type drop-down, then select Every Visit from the Change Photo drop-down.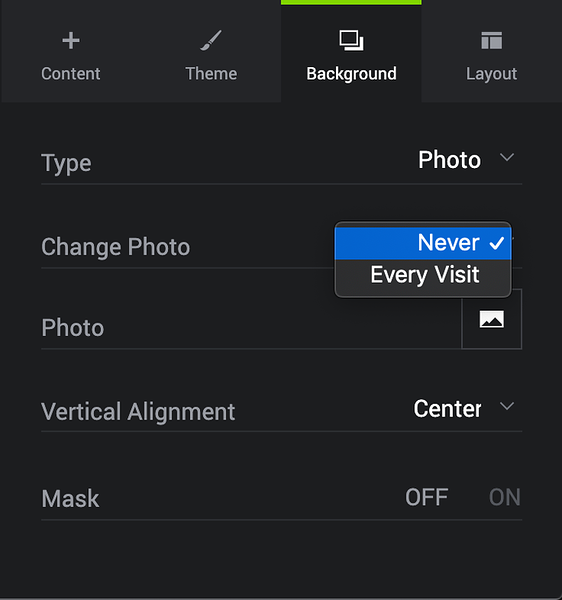 Create a gallery of background images or select photos from several different galleries on your site. Opting to change the photo every visit gives your site a fresh new look each time the visitor returns—endless combinations and permutations to delight and impress your visitors.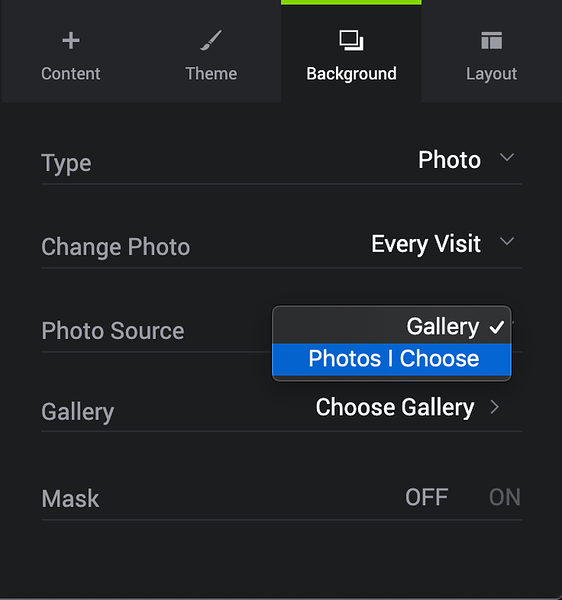 Tip: Be sure your selection of images works well with your text colors.
More advanced options (only for Power, Portfolio, and Pro accounts).
Want to control whether your background image repeats, tiles, or stretches? Use your theme customizations for more advanced background settings.
To set the background for your entire site, you'll start the same way you did above: go to Site, then select Customize Design from the section bar. Once you're in the Customizer, click on the Theme tab.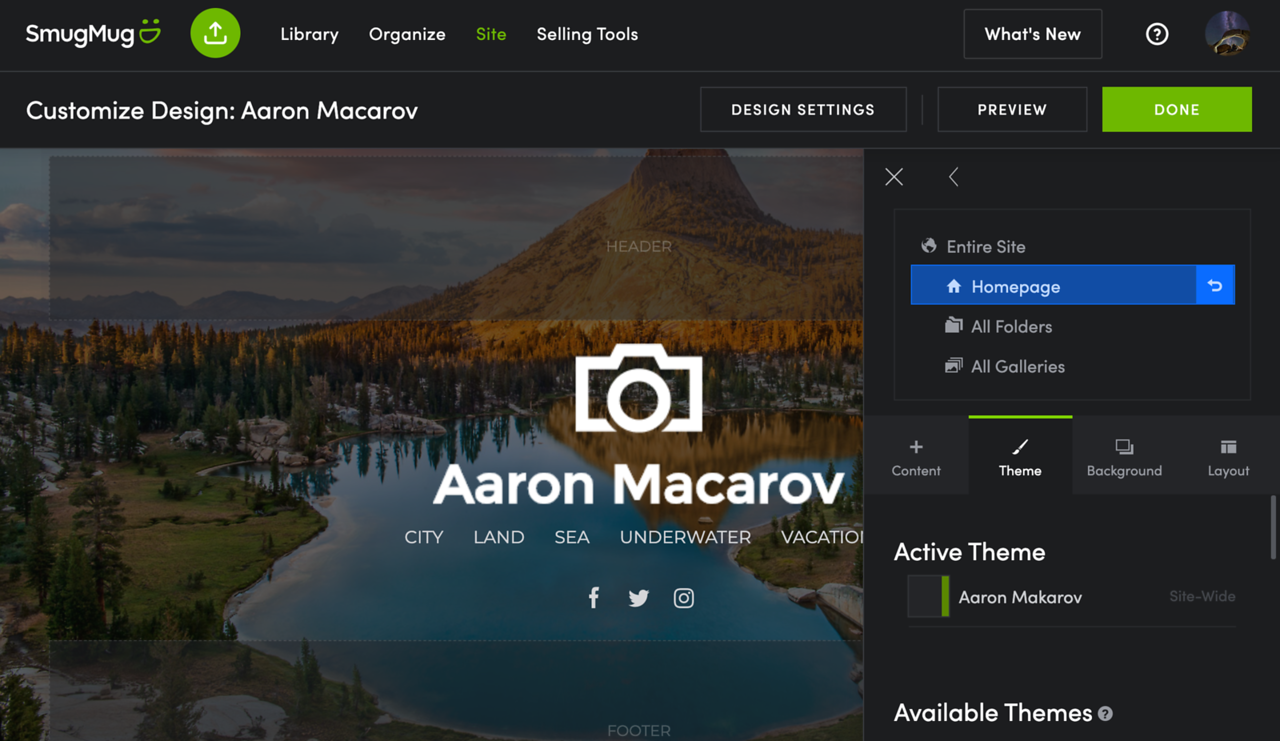 Choose from any of the themes available—including your currently applied custom theme—and as you hover over the theme, select the wrench icon to open the theme's settings.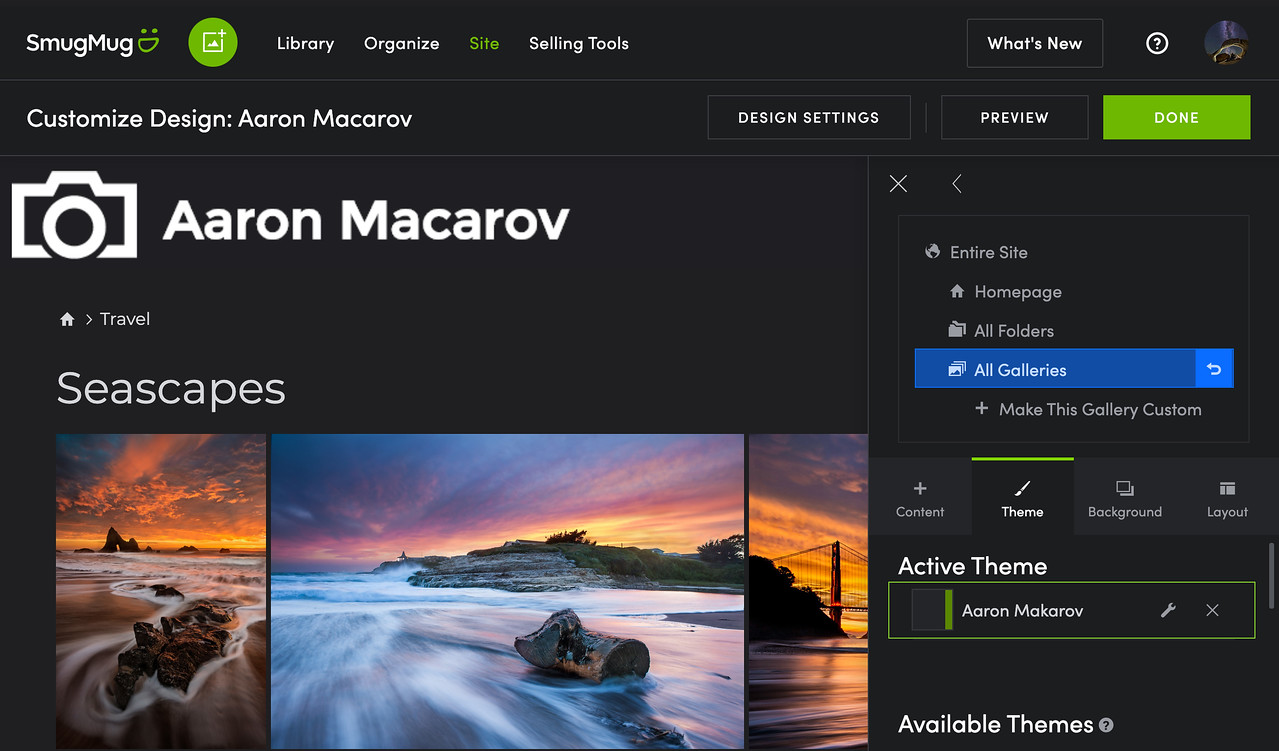 Click on the advanced tab in the theme's settings panel, then select either a background image or color to apply to your site. If you choose a background image, several advanced options will appear so you can tweak everything to your liking.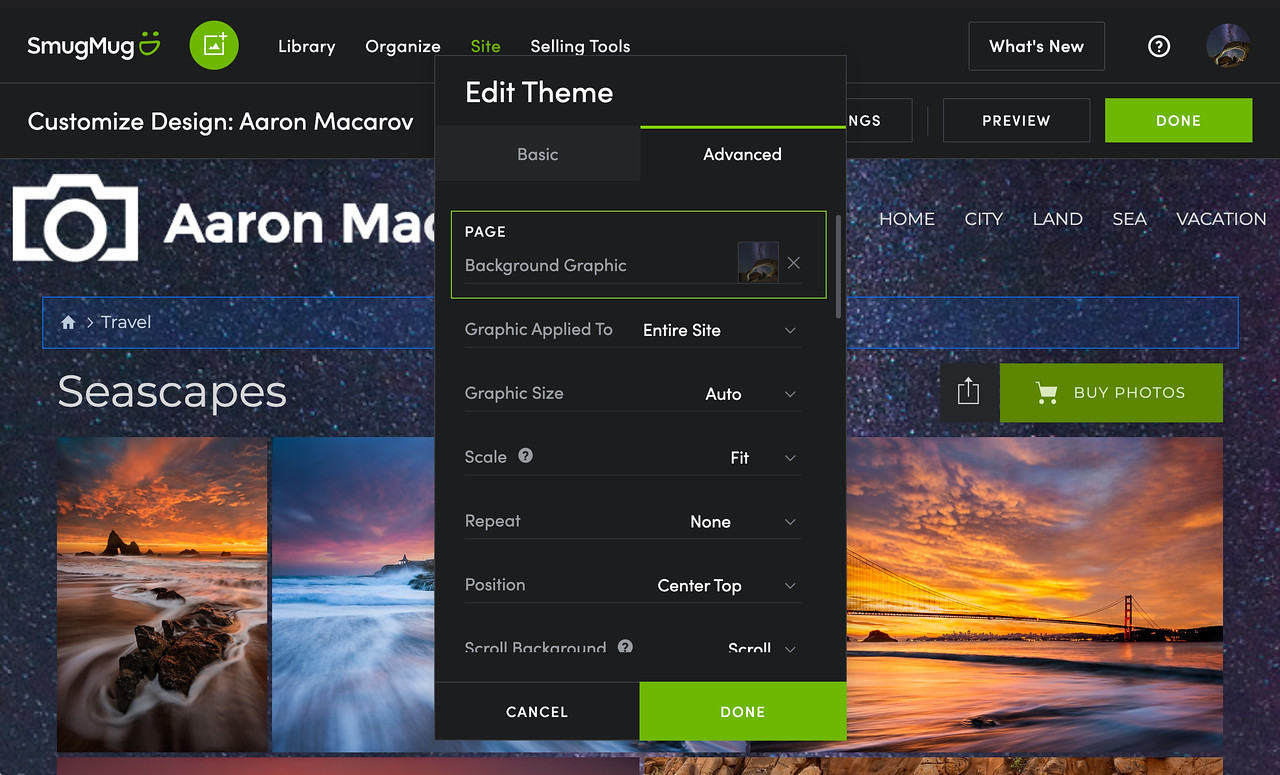 The advanced background image options include the following:
Graphic Applied To allows you to choose whether your background appears across your entire site or on your homepage only.
Graphic Size lets you select which photo size to use for your background image. Select from any of our standard sizes (from Small to Original) or choose Auto to let SmugMug serve up the best size depending on your visitor's device or browser.
Scale determines whether to scale your background photo if it doesn't fit perfectly on a page. Choose from None (no scaling), Fit (display the entire photo, which might result in blank margins along the sides), or Fill (expand the photo from edge to edge, which might result in some cropping).
Repeat allows you to choose whether your background image should repeat and, if so, how to repeat the photo: tiled, vertically, or horizontally.
Position determines where your background image anchors as your visitor scrolls.
Scroll Background lets you select whether your background photo scrolls or stays fixed in place while your visitor scrolls through your content.
What else should I know? These background options sit behind all the content blocks on the page(s) you add them to. They'll lie under your navigation menus, gallery blocks, text blocks, and so on. You'll need to remove existing content blocks from your page if you want a video or slideshow to be all your viewer sees. For this type of design, a great option is to check out our independent homepage feature!
Is it available on MY account? Basic account users will be able to add background images, videos, or slideshows to their homepage only. All other account holders can add this content to any page(s) on their site.