Canvas prints are available in tons of sizes, either rolled or mounted on ready-to-hang frames. If you choose the mounted canvas, be aware that part of the image will "wrap" around the wooden frame, so keep an eye on your cropping margins so you don't lose heads, feet, etc., like this: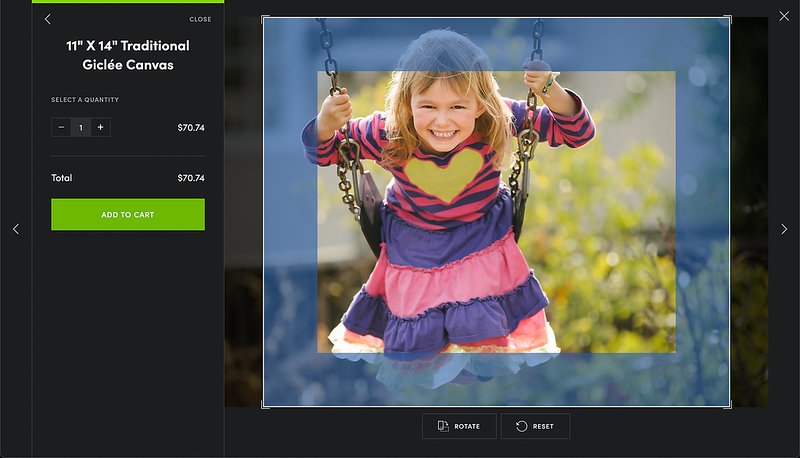 Specs and examples follow to make sure you get the best canvas prints possible, but if you have any doubts, just email us.
For mounted canvas, your photo is printed on a larger piece of canvas to allow it to cover the sides.
Example: If you're using Bay Photo as your print lab, you'll want to allow for an extra 2.125" on each side of your photo. So an 8x10 wrapped canvas would actually print the image 12.25" by 14.25", and the outer 2.125" of each side will be wrapped around the frame and not visible in the front.
Bay Photo offers wrapped-canvas prints in traditional and stretched-frame formats. If you choose the traditional format, you'll need to allot an extra 2.125" for each side. For the stretched-frame format, you'll need an extra 1.375" for each side instead.
The sample image below was 2:3 to begin with, and the crop lines you see take it to 11.5:13.5. The blue section represents the section that wraps around the frame, so the remaining part of the image will be shown on the front of the canvas and will measure 8x10 inches. If you're using Bay Photo, the same concept applies, but you'll want to account for an extra 2.125" border on all sides.
Tip: Scroll to the bottom of this page to see a chart detailing our different print lab canvases.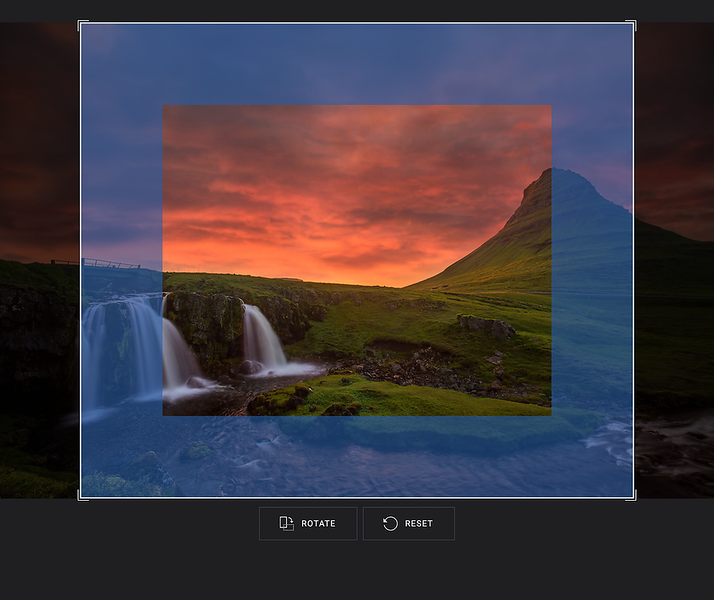 The wrapping area will take up less of the image at larger canvas sizes. Here's a 16x24 mounted-canvas preview. The crop lines show 18.75x26.75, then the blue border accounts for the 1.375" needed to wrap each side. More image is left showing on the front compared with the 8x10 because 1.375" is a smaller percentage of 24" than it is of 10".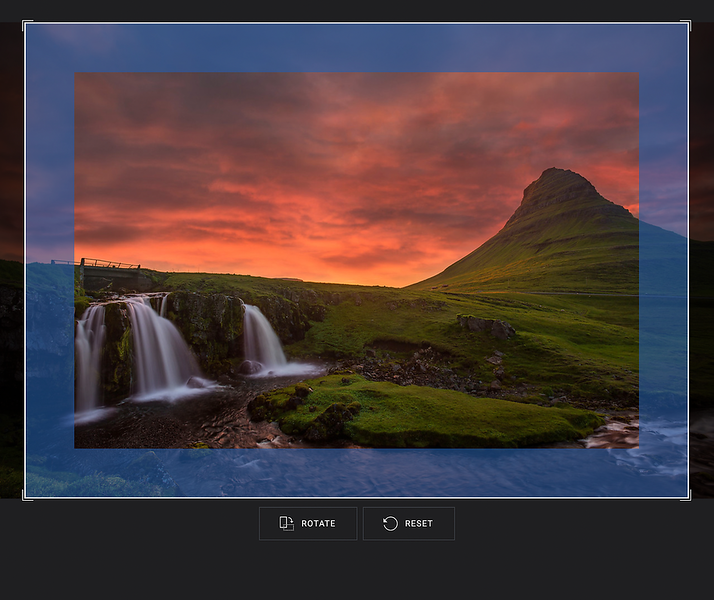 Canvas Size

Bay Photo (Stretched)

Bay Photo (Traditional)

WHCC

Loxley Colour

Actual Print Size (includes wrapped area)

5x7

 
 

9x11

 

5x30

 
 

9x34


 

6x6

 
 

10x10


 

8x8

 
 

12x12


10.7x10.7


8x10


10.75x12.75

12.25x14.25


12x14


10.7x12.7


8x12


10.75x14.75

12.25x16.25


 

10.7x14.7


8x16


 
 
 

10.7x18.7


8x20

 
 
 

10.7x22.7


9x12

 
 
 

11.7x14.7

10x10

12.75x12.75

14.25x14.25

14x14

12.7x12.7

10x15

12.75x17.75

14.25x19.25

 

12.7x17.7

10x16

 
 
 

12.7x18.7

10x20

 
 

14x24

12.7x22.7

10x30

 
 

14x34

12.7x32.7

11x14

13.75x16.75

15.25x18.25

 

13.7x16.7

11x16

 
 
 

13.7x18.7

11x28

 
 
 

13.7x30.7

12x12

14.75x14.75

16.25x16.25

16x16

14.7x14.7

12x18

14.75x20.75

16.25x22.25

16x22

14.7x20.7

12x20

 
 
 

14.7x22.7

12x24

 
 
 

14.7x26.7

12x30

 
 
 

14.7x32.7

12x36

 
 
 

14.7x38.7

14x14

 
 

18x18

 

14x22

 
 
 

16.7x24.7

14x30

 
 

18x34

 

16x16

 
 

20x20

18.7x18.7

16x20

18.75x22.75

20.25x24.25

20x24

18.7x22.7

16x24

18.75x26.75

20.25x28.25

20x28

18.7x26.7

16x30

 
 

20x34

 

20x20

22.75x22.75

24.25x24.25

24x24

22.7x22.7

20x24

 
 

24x28

22.7x26.7

20x30

22.75x32.75

24.25x34.25

24x34

22.7x32.7

20x40

 
 

24x44

 

24x24

26.75x26.75

28.25x28.25

28x28

26.7x26.7

24x30

 
 

28x34

26.7x32.7

24x36

26.75x38.75

28.25x40.25

28x40

26.7x38.7

30x30

 
 

34x34

32.7x32.7

36x36

38.75x38.75

40.25x40.25

40x40

 

40x40

 
 

44x44

 

40x60

 
 

44x64