Thrill your customers by delivering their orders in person with personal delivery!
How it works.
We're happy to do it all when customers buy from you, but we know some folks want complete control of their order packaging and delivery.
With the flip of a switch on any Pro account, we'll mail your customers' orders to you. This gives you the chance to check over each item and ensure everything is perfect. You can even add your own special packaging if you prefer.
This is a great opportunity to load up wedding albums with prints or even mount a photo in a frame they've picked out.
When you're done, hand deliver the order to your client for maximum impact, or ship it to the address they provided during checkout.
FYI: Personal delivery won't apply to orders that contain only digital downloads, or to orders that include items from multiple SmugMug sites.
If an order contains an image from a gallery that has personal delivery enabled and an image from a gallery that doesn't have this feature enabled, personal delivery won't apply to anything in the order. Make sure you have personal delivery enabled for every gallery if you want your customers to always experience this feature.
Two levels of control.
First log in and visit the Selling Tools link in the global navigation bar, then select the Manage button for the Branding section. 
You'll be taken to the Business Branding tab in your Account Settings. Here you'll see see a section for Personal Delivery. Click Manage. If you haven't yet set a customer contact email address, we'll walk you through that first. Follow the steps to set up your email and verify it.
Next, enter an address where you'll be sure to receive deliveries.The telephone number is just in case we need to reach you. We'll never share this information with your customers.
Once you've set this up, we'll bring you back to your account settings. Personal delivery starts off disabled, but when you're ready, turn it Onwith a click.

Your Account Settings contain the master toggle for personal delivery across your entire account, but you can fine-tune it for each gallery on your site. Visit your Gallery Settings  Shopping tab. You'll see that you can set the gallery to honor the site settings, or you can enable/disable personal delivery in just this gallery.
Things to know.
Once you receive the package, it's your responsibility to get the goods to your customer. Keep this in mind when quoting delivery times.
Both you and your customer will be notified about the personal delivery option in the order emails.
The order must include at least one item from a gallery enabled with personal delivery.
Shipping charges are calculated based on your shipping address, not your customer's.
You are responsible for shipping costs to your customer once you receive the order from our labs.
Wait, I changed my mind.
No worries! If the submitted order is held in proof delay, and if the shipping charge is the same for you and your client, you can override the personal delivery option.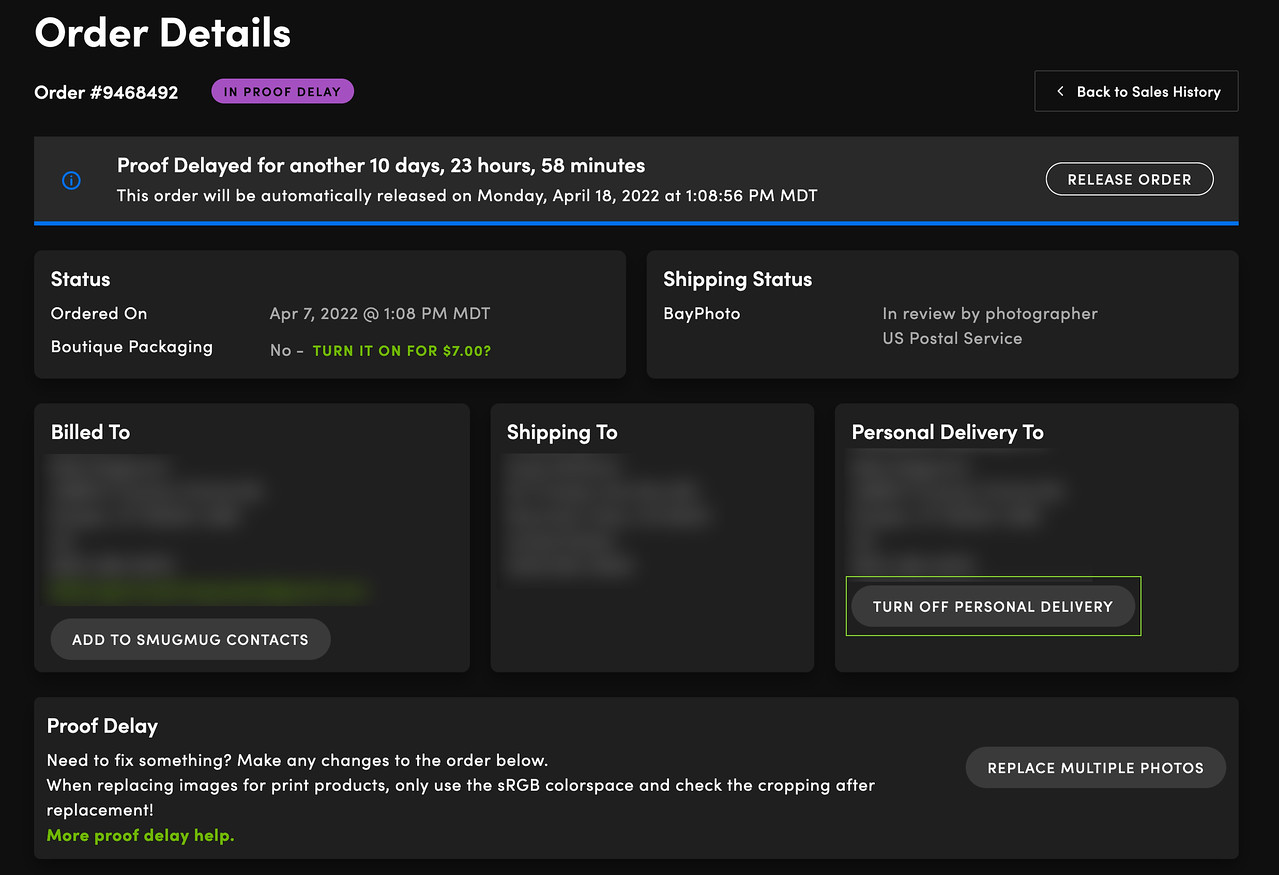 Visit the order details in the Sales History area of the Selling Tools. Select the Turn Off Personal Delivery button and we'll ship it straight to your customer instead.
If you missed the boat, email us with the order number and we'll do everything we can to help you out.