SmugMug's proof-delay feature is a powerful tool for Portfolio and Pro accounts. It allows you upload unretouched proofs to a gallery for a customer's review. Once the customer makes a purchase, you have from one to seven business days (your choice) to retouch and replace the photos with retouched, print-ready, or download-ready versions.
You can also adjust the customer's chosen crop, as well as their choice of true or auto color.
Note: Proof delay doesn't work on greeting cards or photo albums.
Using proof delay.
First, make sure you have proof delay enabled in your gallery settings. You can set your galleries to have a proof delay between one and seven business days. Additionally, you can choose whether or not to include downloads in your proof delay.
When a customer orders from you, you'll get an email from us notifying you a new order has been placed. You can view the order during the proof-delay period by going to Selling Tools; in the global navigation bar and then selecting Sales History > Manage.
Notifications about orders, allowing you to review the orders in proof delay right on your mobile device, are also available on the latest iOS and Android versions of our app. 
Your newest order should appear near the top with a badge that says In Proof Delay. Click Order details to see the choices your customer made for prints as well as any digital downloads.

Here you can replace any low-res photos with full-resolution versions you've edited. This helps ensure you only spend time editing the images your customers buy.
You can also change the crop if your customer accidentally cropped someone's head off. 
Note: Replacing the photo will replace it in the order as well as in the gallery.
These options can be found below each photo's thumbnail. Prints that have been ordered will display crop-adjustment and photo-replacement options while digital downloads will display only the photo-replacement option.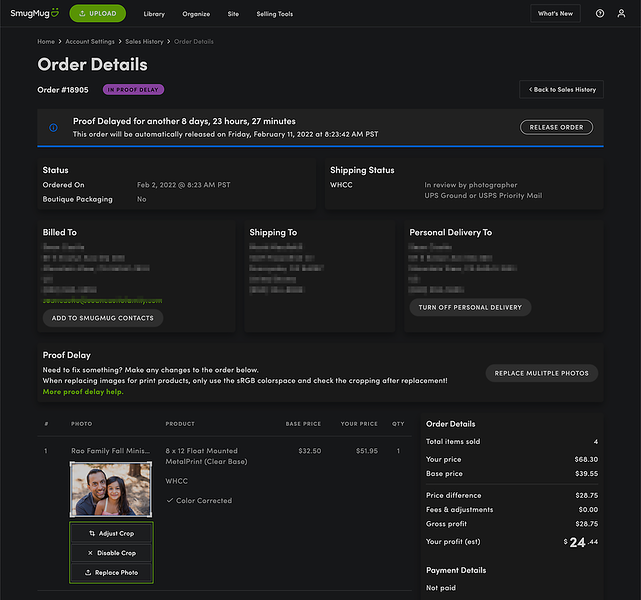 You can use the Replace Photo option to reupload the exact same file size and resolution with color changes, or a new photo with much higher resolution if you wish. Important: This option will reset any previously applied cropping, so you'll need to use the Adjust Crop option after replacing the photo and crop it again to taste.
If your customer has ordered several photos, you can batch replace all the images with their edited counterparts by clicking the Replace Multiple Photos button outlined in the middle of the above screen.
Once you've finished proofing the order, the final step is to hit the Release Order button. The order will then be sent to our lab for printing. If the order also contained any digital downloads, we'll send an email to your customer letting them know those photos are now ready to be downloaded.
But I don't need to retouch my photos.
SmugMug's proof-delay feature is useful even if you process your files perfectly ahead of time and don't plan on retouching. Why?
Because SmugMug empowers your customers with the cropping tool, you can be certain with proof delay that your customers have made "just the right crop."
Sometimes we get asked, "why do you allow cropping?" We don't lock out cropping because without it we've had too many returns. Customers see the crop lines, and they get it most of the time. And with proof delay enabled, you don't have to worry because you can always re-crop.
Suggested workflow for proof delay.
A couple tweaks in your workflow should help make uploading even faster for you and delivery quicker for your clients.
First, plan ahead. Some pros prefer to shoot RAW + small JPG and afterward upload only the small JPGs. Other pros shoot RAW only and use a RAW-conversion software to generate proofs. Still others may shoot only full-resolution JPGs and batch resize them prior to uploading. Any of these methods will do. Use what's best for you.
For proofs, you can upload your files fairly well-compressed. Here's a gallery with some examples from three Canon cameras at four different resolutions. These files were all converted from RAW at different sizes. (You can do this easily by using batch mode in Photoshop if you don't shoot RAW+JPG.)
All the photos were saved at Photoshop JPG 7, which will display these types of photos just fine for sale. If you have fewer files or don't mind uploading larger files, then compress them at JPG 8. Here are some examples of how much the files can be compressed:
1Ds Mark II, 16 megapixel file, 1.2Mb
1Ds Mark II, 6 megapixel file, 332kb
1Ds Mark II, 3 megapixel file, 540kb
1Ds Mark II, 1.5 megapixel file, 252kb
5D, 12 megapixel file, 1.3mb
5D, 6 megapixel file, 764kb
5D, 3 megapixel file, 440kb
5D, 1.5megapixel file, 312kb
20D, 8 megapixel file, 1Mb
20D, 6 megapixel file, 828kb
20D, 3 megapixel file, 484kb
20D, 1.5 megapixel file, 348kb
Want to compress using Lightroom instead? Using compression at level 30 produces a fine image for display purposes. You can see some examples here in this gallery. It's up to you to decide how much compression you want, but you can export from Lightroom at compression 50 and have a manageable file size for uploading.
Be very careful to upload files with resolution great enough to support the largest size print you wish to sell. If you don't, the sizes won't appear in your shopping cart.