You don't need a SmugMug account to buy prints. Come one, come all, and order as much as you like!
Important: Shopping for the holidays? Check out our order deadlines to ensure your prints and gifts arrive in time. 
Step 1: Add photos to your shopping cart.
Most gallery owners permit you to buy prints and gifts. If they do, you'll find a Buy Photo or Add to Cart button below each photo.
To add one photo to your cart at a time, click on the photo you want and then click the Buy Photo button.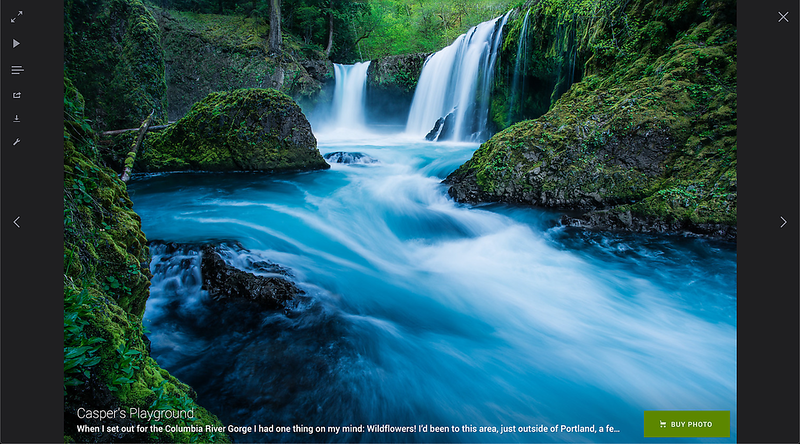 Select the type of product you want for your photo (the availability of product types depends on what the photographer has selected to sell, so not everything may be available from your chosen photographer):
Paper prints: Get just the print without anything extra. Perfect for photo albums, scrapbooks, wallets, and more.
Fine-art prints: Upgrade your prints with special papers and archival inks.
Wall art: Includes vendor-specific specialties such as canvas, thinwraps, block prints, aluminum, and metalprints.
Desk art: Includes vendor-specific options such as flat- and curved-metal prints.
Keepsakes: Includes mugs, buttons, and more.
Albums: Create a beautiful photo album.
Greeting cards: Includes a variety of greeting card designs.
Downloads: Purchase a digital download of a photo to save to your own hard drive for posterity or printing elsewhere.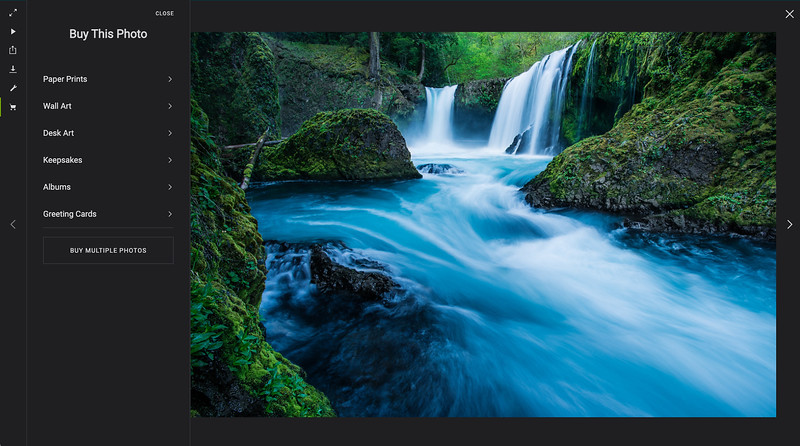 Once you've chosen which type of print you want, you'll be guided through your options for making your print perfect.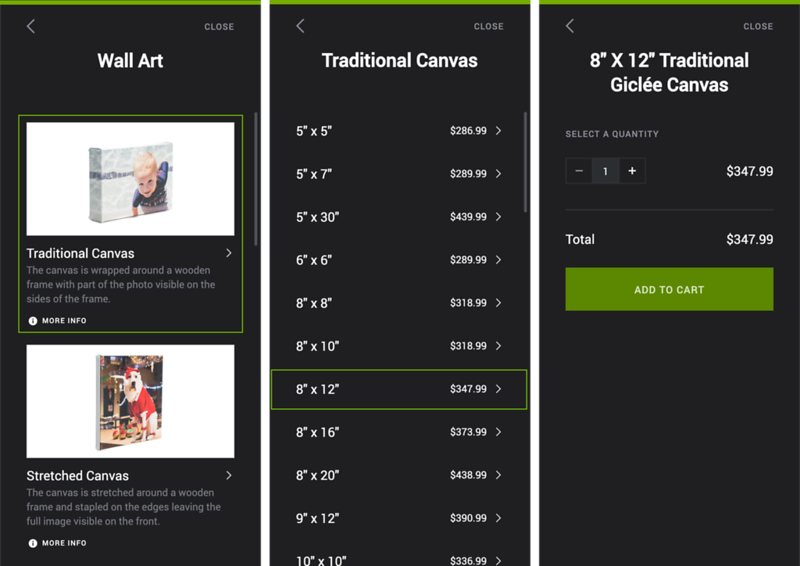 Want to buy several different photos at once? As you view a single photo, click the Buy Photo button, then select Buy Multiple Photos.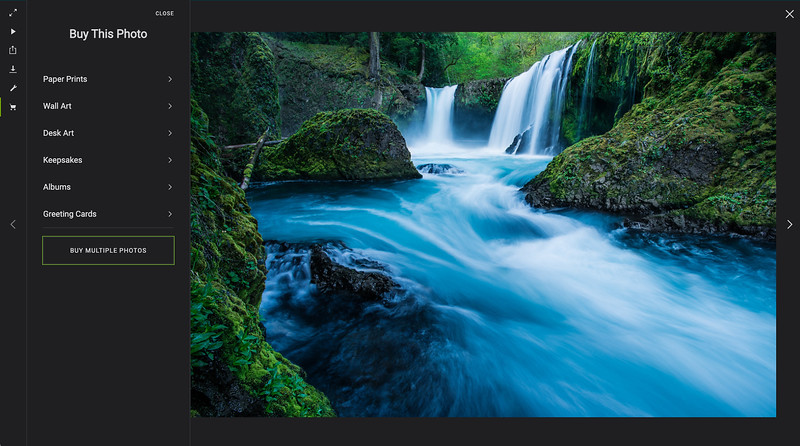 Or, as you view a gallery, select the gallery Buy Photos button.

You'll see a thumbnail of every photo in the gallery, allowing you to click on the images you want. Your selections will be outlined in white. Product types will vary depending on the options available from your photographer. Once you select your photos, choose the product types and quantities, then click the Add To Cart button.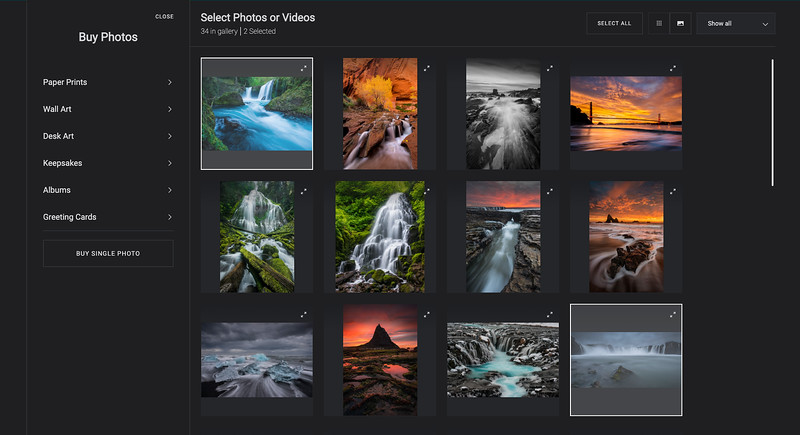 Click View Shopping Cart if you're ready to finish your order, or click Continue Shopping to keep browsing and shopping. You can always go back and add more photos to your cart, including those from different galleries.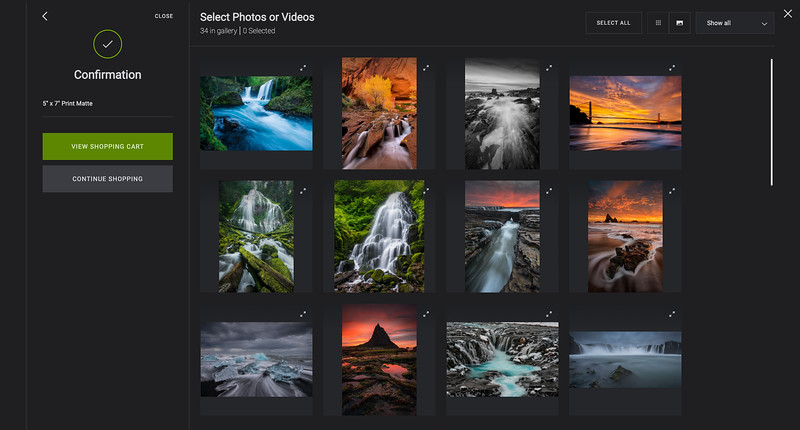 Step 2: Get a perfect order.
We give you lots of options to choose from to ensure the print you order will be one you love.
Size: This is the trim size of your product, shown as width x height. Every standard size is available here, as well as sizes specially cropped for compact cameras. Compact digital cameras take 3x4 photos, which fit your TV perfectly but don't fit 4x6, 5x7, or 8x10 print sizes exactly. One solution is to buy 4x5.3 prints, which better fit the compact-camera aspect ratio.
Crop: It can be a shock to discover your photo won't fit all print sizes without a bit of trimming. But at least you're empowered with your own knife. You can tell us what part of the photo to print, right in the shopping cart, by adjusting the crop lines. Find out how.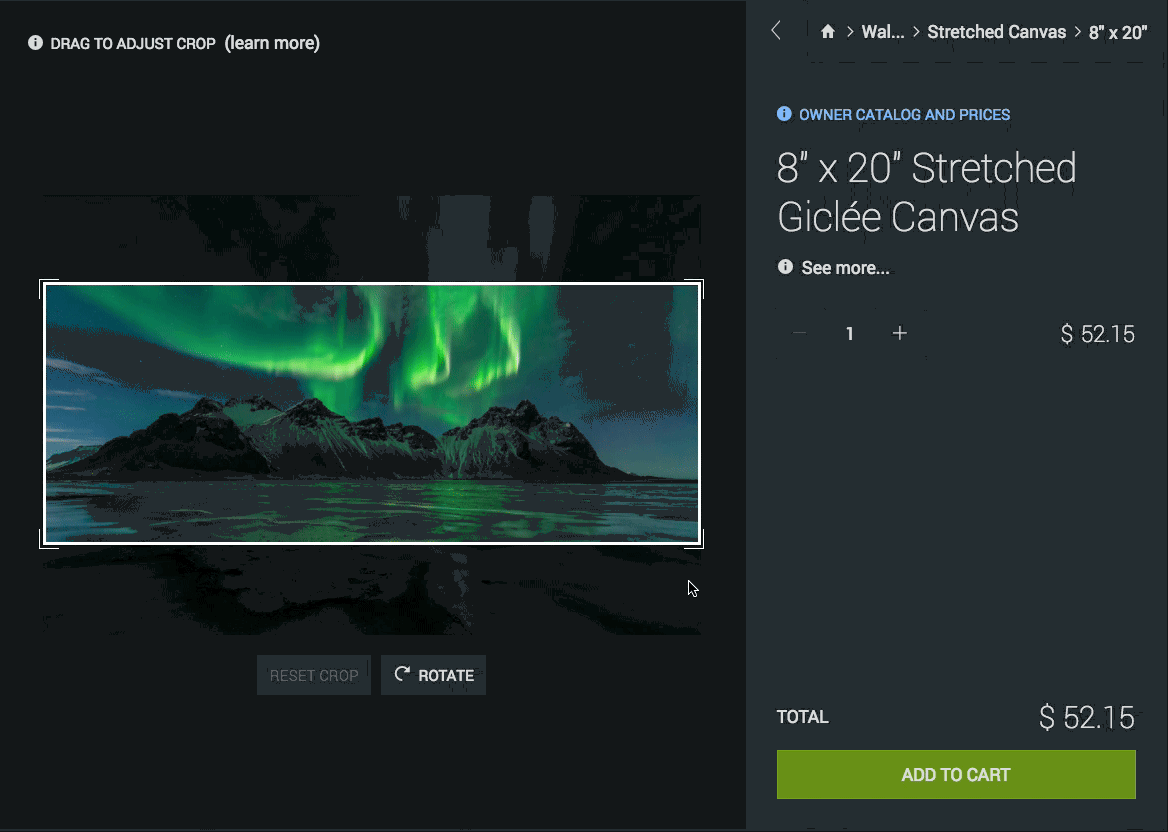 For canvas and other products that wrap a part of your print around a wooden frame or foamboard, a blue overlay will appear inside the crop lines. The highlighted center area represents what will appear on your print. Anything covered in blue represents what will be wrapped around the edges.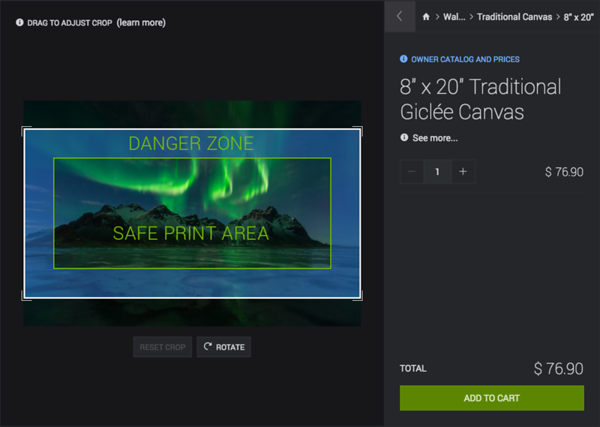 Finishes: This option is only available for select products. Check out this article to learn more about the different finishes and how they appear in print.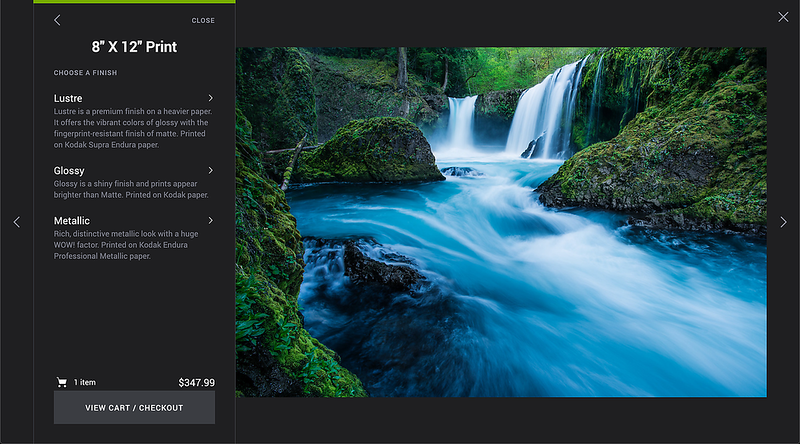 Our most popular finish choice is lustre, which combines the color saturation of gloss with the fingerprint resistance of matte.
Quantity: Increase (+) or decrease (-) how many copies of a print you want to receive.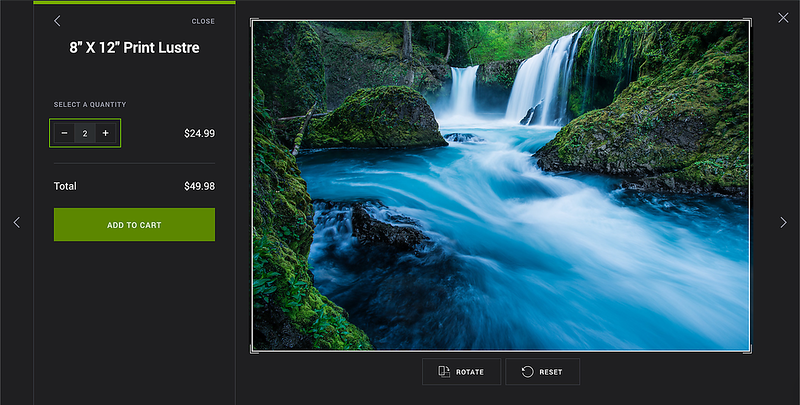 Add to cart: Once you've finished selecting all your photo options, click Add to Cart. Don't forget to click this button; otherwise, your print(s) won't appear in your cart when you're ready to check out.
Click View Shopping Cart if you're ready to finish your order, or click Continue Shopping to keep browsing and shopping. 
Step 3: Check out.
Once you've selected everything you want, click Items in Cart to be taken to your cart. Here you'll enter your shipping and billing information, as well as any coupons you may have from your photographer. You can also make changes to your order—like if you decide you want two of everything.
If your photographer has framing and matting options enabled, you'll see a Finishing Options button you can click to select frame and matting options for your print. Learn more about these options here.
Shopping from outside the United States? You can switch currencies using the drop-down menu on the top right of your cart: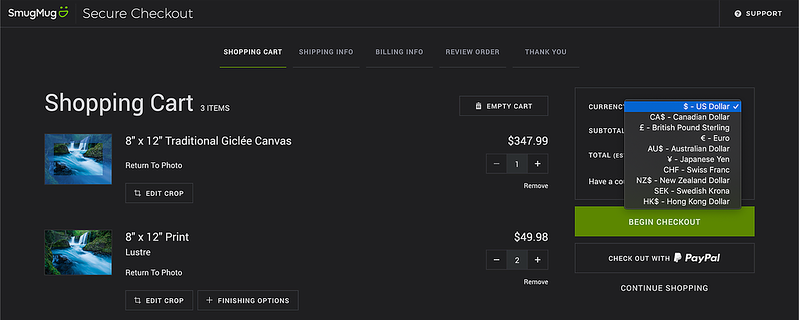 Buy digital downloads.
If you want to buy digital downloads of photos and videos, checking out is even easier! Click the Downloads tab in the cart and choose the size and type of license you want from the options your photographer offers.
Some photographers also offer printmarked downloads and gallery downloads (allowing you to download all photos in a gallery at once).
Once you've checked out, you'll see a button on the order confirmation page to download your files.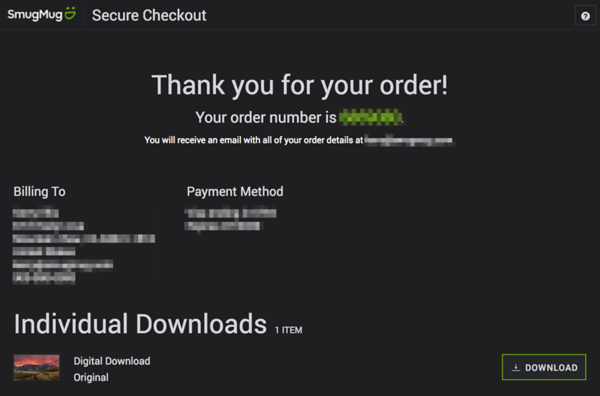 Don't see it? No problem—the same link will be available in your email receipt.
Shop on mobile, too.
Buying photos also works seamlessly on any screen size. Purchase prints and gifts anywhere with just a few taps. Once you've found the photo you want, tap Buy Photo and you'll find the familiar process shown above, perfectly formatted to fit your mobile screen.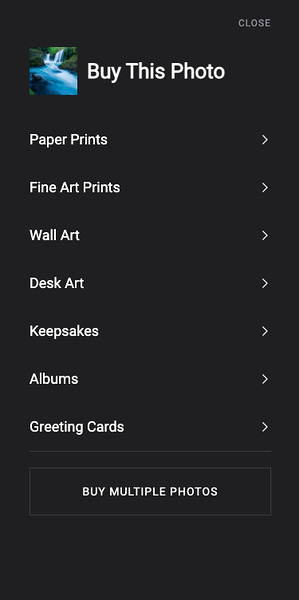 FAQs
Q: Can I buy prints from multiple galleries? 
Yes! You can purchase from different galleries and even from different SmugMug photographers. Make sure you have browser cookies enabled so your choices remain in the shopping cart between sites.
Q: Why aren't some options available in my cart?
Photos must meet the minimum resolution requirements for an item to be available for purchase. If an image is too small, we can't make a big print out of it. Also, some professional photographers sell only certain items for a given image.


Problems?
Make sure you're using a supported Internet browser. View our full list here.
If your cart is "empty" after adding images to it, check your browser's cookie settings.
We can only print from JPG files, even though we do support other types.