Gorgeous prints deserve gorgeous presentation.
Our boutique packaging will totally knock their socks off. Save a trip to the store and let us do the wrapping for you.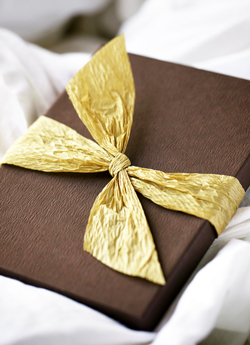 Dress to impress.
Bay Photo, WHCC, and Loxley Colour prints arrive tucked in cream tissue paper inside a brown box, or slipped into a brown folder. Both options are finished with a gold paper ribbon to make your photos pop. Glossy, metallic, and lustre prints; MetalPrints; and ThinWraps up to 11x14 inches in size can get the royal treatment.
Make it happen.
Users with the top-level selling account get boutique packaging for just $7 per lab, per order (£6 for Loxley Colour). We'll take care of everything and bill the credit card you've got on file as a pro services charge. Pro services are charged on the 1st and the 15th of each month.
You can easily indicate which orders you'd like wrapped:
Go to Selling Tools  Branding, then look under the Shipping section. You'll see Boutique Packaging there. Specify a minimum order amount above which you'd like boutique packaging applied. Note that this is the basic, pre-coupon subtotal for the order. (Coupons?)
Enable or disable boutique packaging for specific galleries in your gallery settings.
Change your mind? You can turn on or turn off boutique packaging any time an order is held in proof delay.
More to know.
Our regular packaging and shipping options will apply when your clients buy from more than one pro.
Boutique packaging requires 3–5 business day shipping (or faster), so if it's enabled your clients won't see the 6–10 business day option when they check out. 
You can turn on boutique packaging during the proofing period only if your client chose 3–5 business day shipping (or faster) in the shopping cart.
By default, boutique packaging kicks in when your client buys at least $50 of prints, but you can remove or adjust the minimum amount, or change it to profit amount in your Selling Tools  Business Printing section.
FYI: Boutique packaging applies ONLY to logged-out pro orders that meet the minimum order amount set in the gallery.