Not sure where to start with making your site truly yours? This quick how-to will help get you started!
The "Customize Design" button is always available in the section bar when viewing your Site whenever you're logged in. 

As you go to Site and view your homepage, you'll see a Change Site Theme option in the drop down from the section bar. This option allows you to change your colors and fonts for your entire site without going into the full customizer.

New Site Design, also seen in the drop down from the section bar when you view your homepage, allows you to pick one of our ready-to-use site designs as a starting point.
The "Customize Design" button allows you to make design, theme, background, and layout changes to your Entire Site, Homepage, Folders, Galleries, and Pages.
When you open the customizer, a sidebar opens on the right side. You can move it to the left by using the arrow key. 
Working in site customization allows you to create designs for your entire site all at once, or for your homepage, selected pages, folders, or galleries.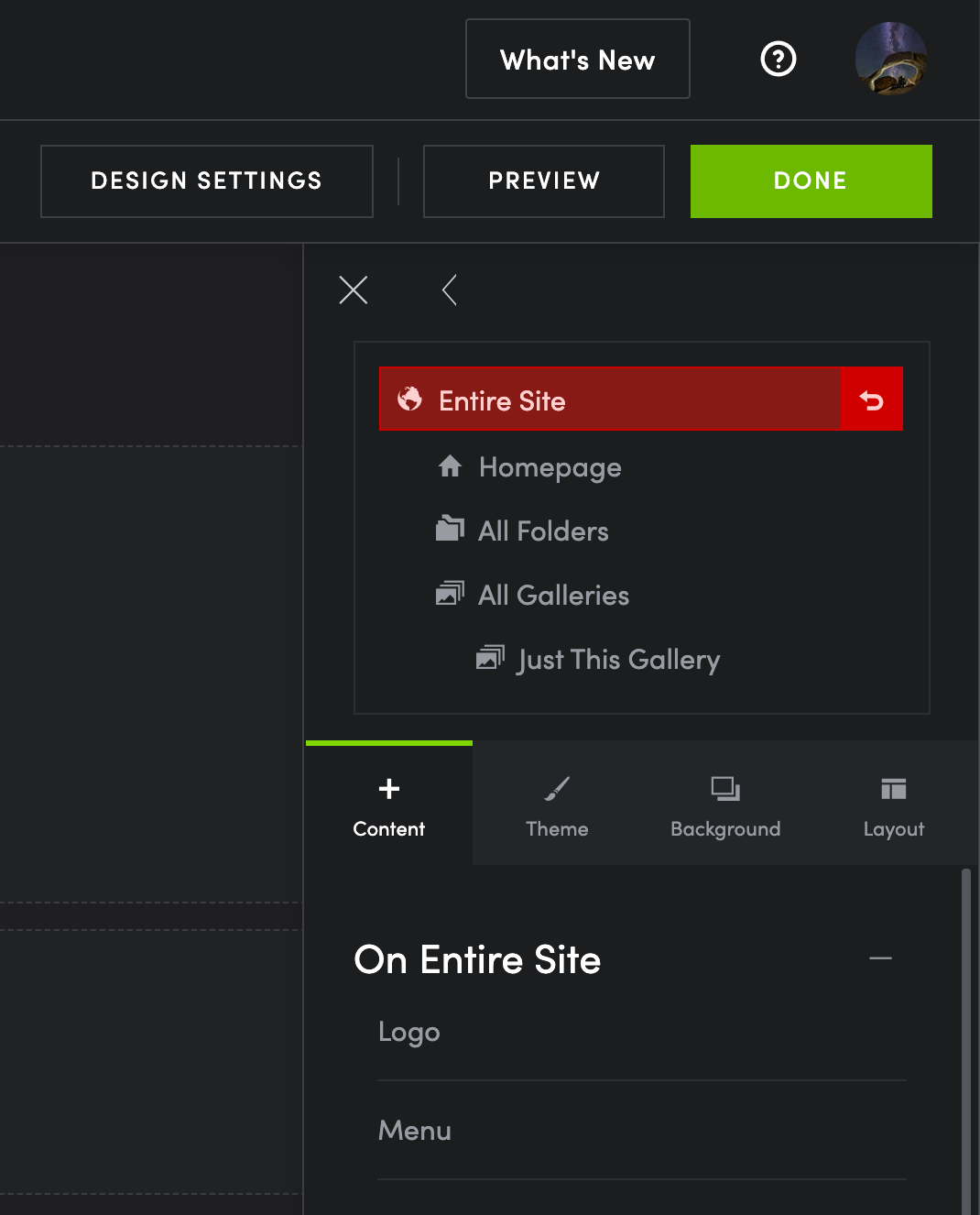 +Make This (Folder, Gallery or Page) Custom allows you to work on the look of only the folder, gallery, or page you have open at that time. To see this option, you'll need to start out by viewing a particular page before entering the customizer. Navigate to Site, then browse to a specific folder, gallery, or page, select "Customize Design" from the section bar, and this will take you into the customizer with the option to customize only that folder, gallery, or page.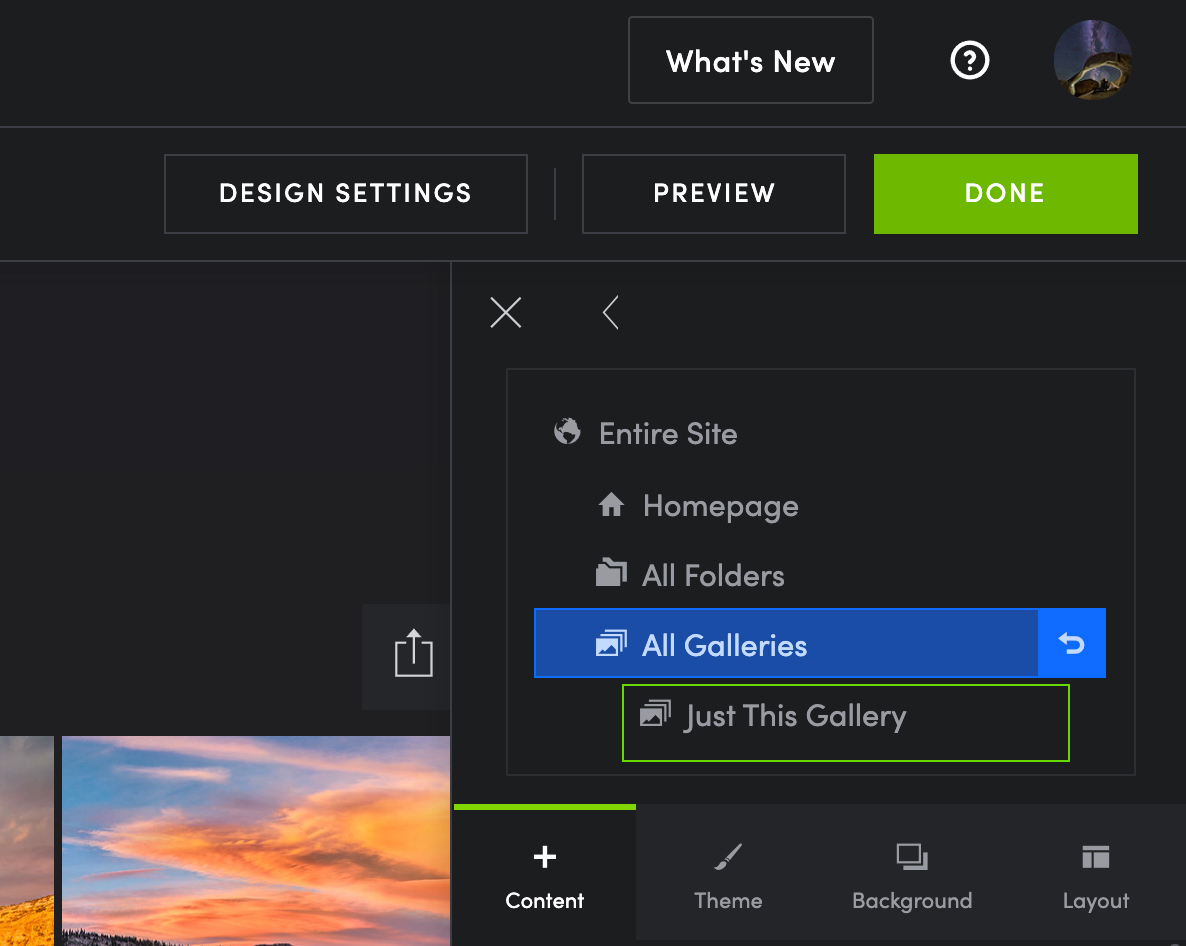 All Galleries allows you to make global gallery style changes across all your galleries.
There are three major components to the Customization menu: Content, Theme, Background, and Layout.
Content.
These are the building blocks for creating your site's content. Drag and drop content blocks onto any/all pages of your site. Select from:
Galleries: Galleries, Folders, Folders/Galleries/Pages, or Pages
Photos: Single photo, multiple photos, slideshow or carousel blocks
Navigation: Breadcrumbs, menus, and more
Video: Embed video, YouTube or Vimeo blocks
Design: Add your logo, add separators and spaces
Text: Add text and titles to add information about you, your photos, and more
Social: Your profile, social icons, share buttons, and comment blocks are all here
Discovery: Search box, keyword clouds, and maps
Services: Google calendar, Google translate and Wufoo forms
HTML and CSS: Add your own code to any page
Theme.
Control how your site looks, from colors to palettes to fonts. Choices you make here are carried through to your Cart (background color, borders, and typography all change to be complementary to colors you've chosen).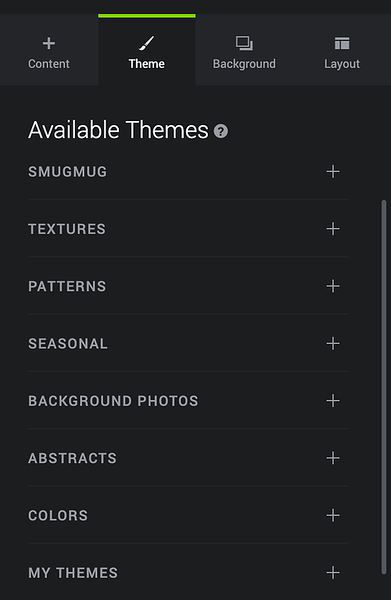 You can apply themes to specific pages, folders, or galleries without affecting any themes you have applied to all pages, all folders, or all galleries. But to see the theme you applied to a single page, folder, or gallery, you'll need to go to Site, view the page, folder or gallery, select Customize Design from the section bar, then in the customizer, click "+Make This Page/Folder/Gallery, Custom" in the customizer when it opens.
Background.
Customize your background with photos, video or a slideshow! If you don't choose anything in this panel, then your background will be pulled from your theme.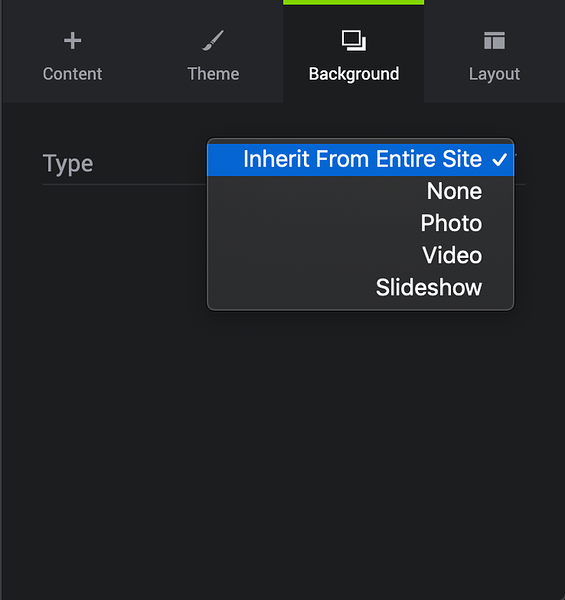 Layout.
Control your page width and spacing of page elements, stretchy or fixed design, and header and footer elements. You can also pin sections on a page, like if you want your logo and navigation menu to stick to the top of the page and always be visible while your visitors scroll.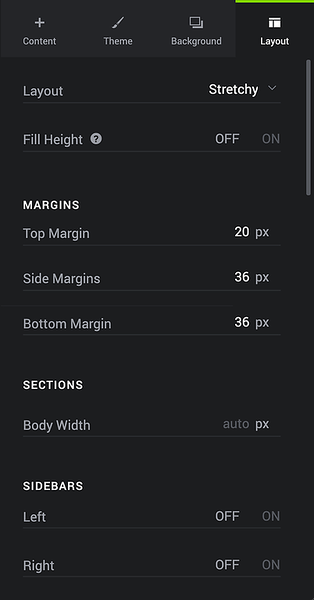 It's up to you how you want to customize! Use a SmugMug site design unchanged, add elements on some or all your pages, or build your own design from the ground up! We've got lots of details about each and every part of our customization tools for you.