After you sign up for a full SmugMug account, you'll be able to choose a site design so you can get your site looking just the way you want it. But you aren't limited to that one design! 
Note: Full site customization is available for Power, Portfolio, and Pro plans.
To get started, view your homepage on your Site, then select New Site Design from the drop-down menu.
Our talented design team has created more than 20 beautiful, ready-to-use designs for you to choose from—and at no extra cost! These designs contain all the elements you need to get a beautiful photography website right out of the gate.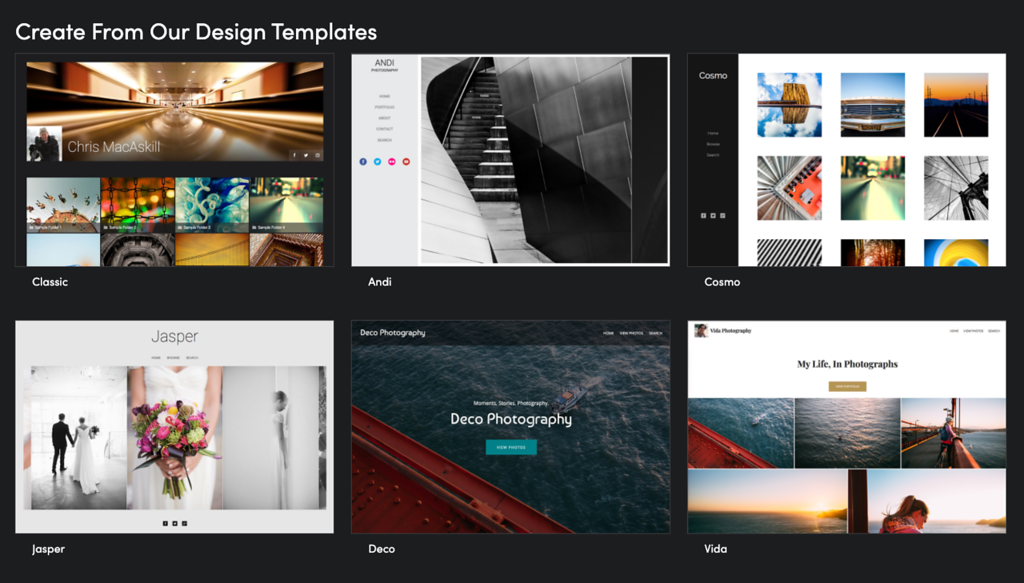 Can't quite decide which design you want? Don't worry, you can always change your mind and choose another later. So pick a design, play around, and if you find you don't quite like your first choice, go back and select a different design to play with. You can change your design as often as you like, even months or years from now.
You can also save all your custom designs so you can cycle through them if you want. Create special designs for holidays, life events, or seasons, and select them whenever the right time comes around. Refresh your site any time with just a few clicks!
On our design preview page, you'll be able to preview each design at
the Homepage level
as it would appear on a mobile device (toggle top left)
and also at the gallery level, by clicking on any of the sample galleries on the preview page
When you find a design you like on the Design Preview page, click on Try It Now. As long as you were logged in, you will be taken to your site. Select Site from the navigation bar, and then click on New Site Design in the drop down menu of the section bar. From there, you can choose the new design. Click on the design to preview it, then click on Choose This Design. Next, click on Publish Now or Customize Design. You'll have a gorgeous photography website built in not time at all!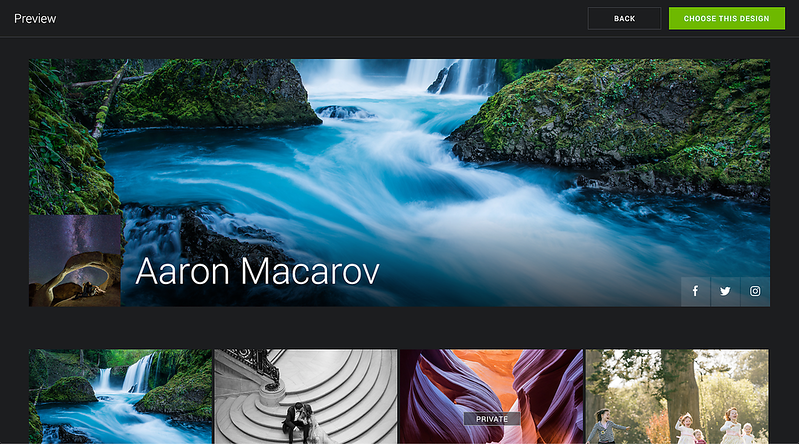 Best of all, you don't need to feel limited by these designs. They can be a simple starting point, if you like, and you can add/change/delete as many elements as you wish. After you've picked your design, you'll be able to customize it to your heart's content.
The Customize panel gives you access to edit any part of any page on your SmugMug site.  (You can move it to the other side of your screen by pressing the arrow key.)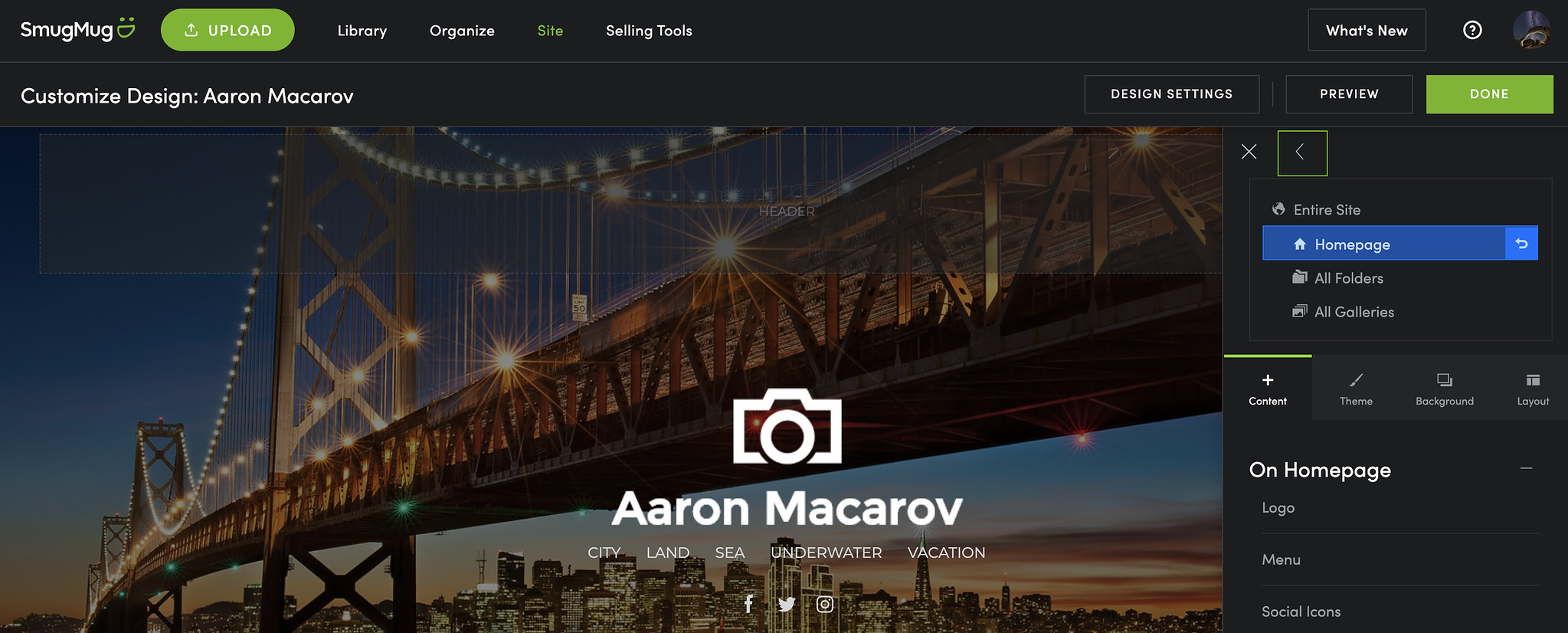 Choose to customize your entire site, your homepage, all folder pages, or all gallery pages. We'll indicate which page you're working on, and the content that's specific to that page, via colored overlays.
Want to start over? From within the customizer, select Done in the section bar, then select Discard Changes.
Make the template yours.
As you begin to customize, we'll help you along the process by including a description of any action you'll need to take.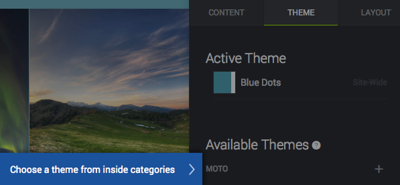 Each template allows you control over three major areas: Content, Theme, Background, and Layout.
Add Content blocks to display photos or videos, your logo, social network icons, and more.
Themes control your color scheme and fonts. Each design comes with a built-in theme, and you can personalize it if you wish.
Background allows you the option to have a photo, video or slideshow in the background. 
The Layout panel gives you access to spacing and the ability to add sidebars on the left or right of your pages, as well as the option to pin content so it stays fixed when the viewer scrolls.
There is also a "Design Settings" button in the section bar. This gives you control over site-wide design elements such as the SmugMug header and footer.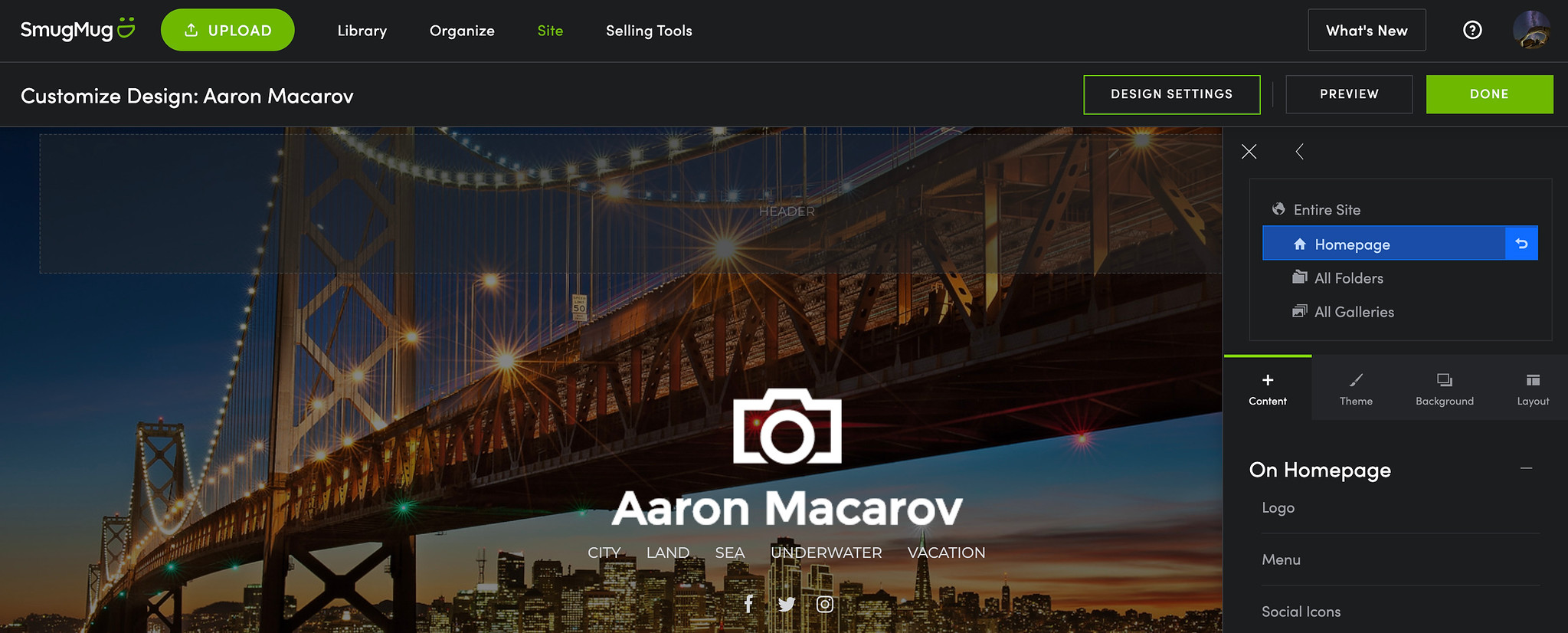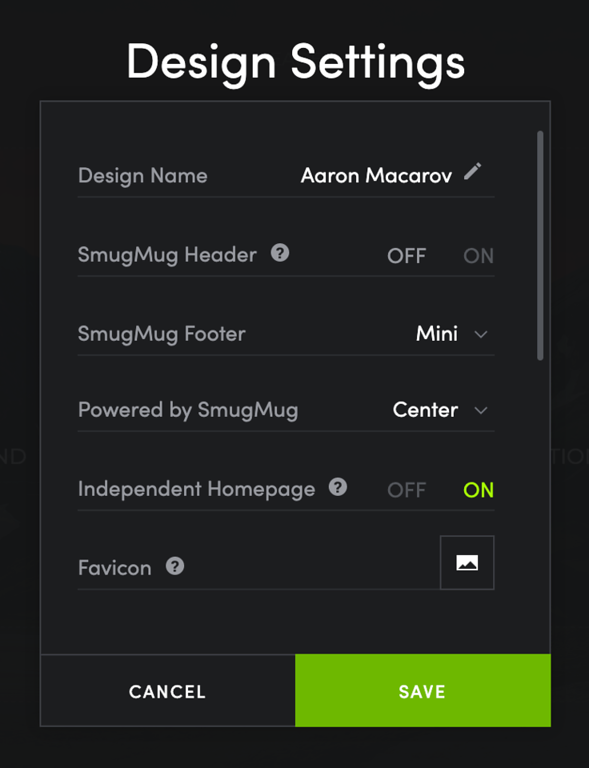 Want more control?
If you'd rather start with a completely blank slate, you can pick the Classic site template and add in one of our prebuilt Themes, or you can build your own.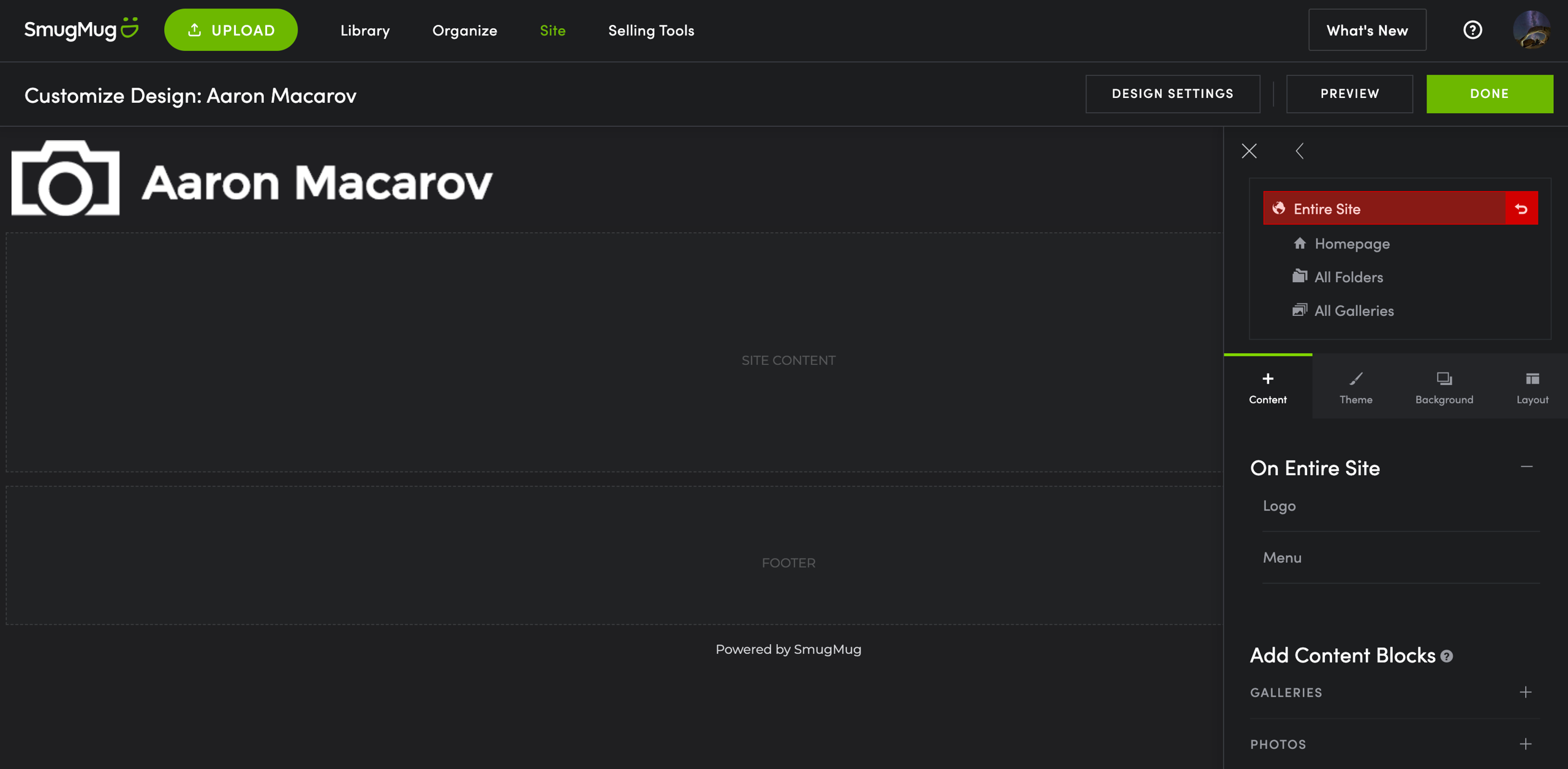 Important: We do our very best to optimize your design for display on mobile devices. This may cause the display of things like complex menu content blocks and padding between images to be different between your larger display and your mobile device.