Galleries are where your photos live once uploaded. You can name them however you choose, organize them in folders, customize your design per gallery, and more!
Create a gallery.
You'll want to first make sure you're logged in. Then click Site in the navigation bar and then Upload Into New Gallery...

...or select Organize and click Upload  Into New Gallery there instead.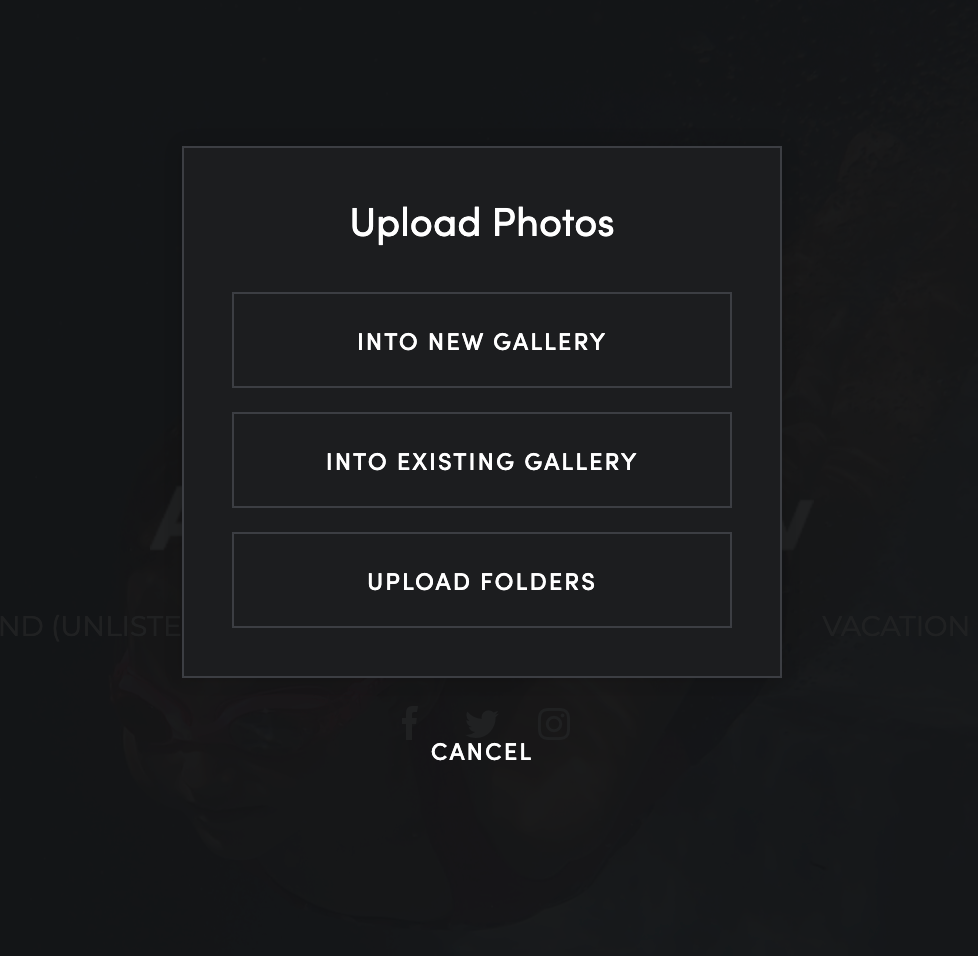 Once you've clicked Into New Gallery, an overlay menu will appear for you to choose your gallery settings. Here you can name your gallery, give it a description, choose social-sharing options, select a cover image, and more.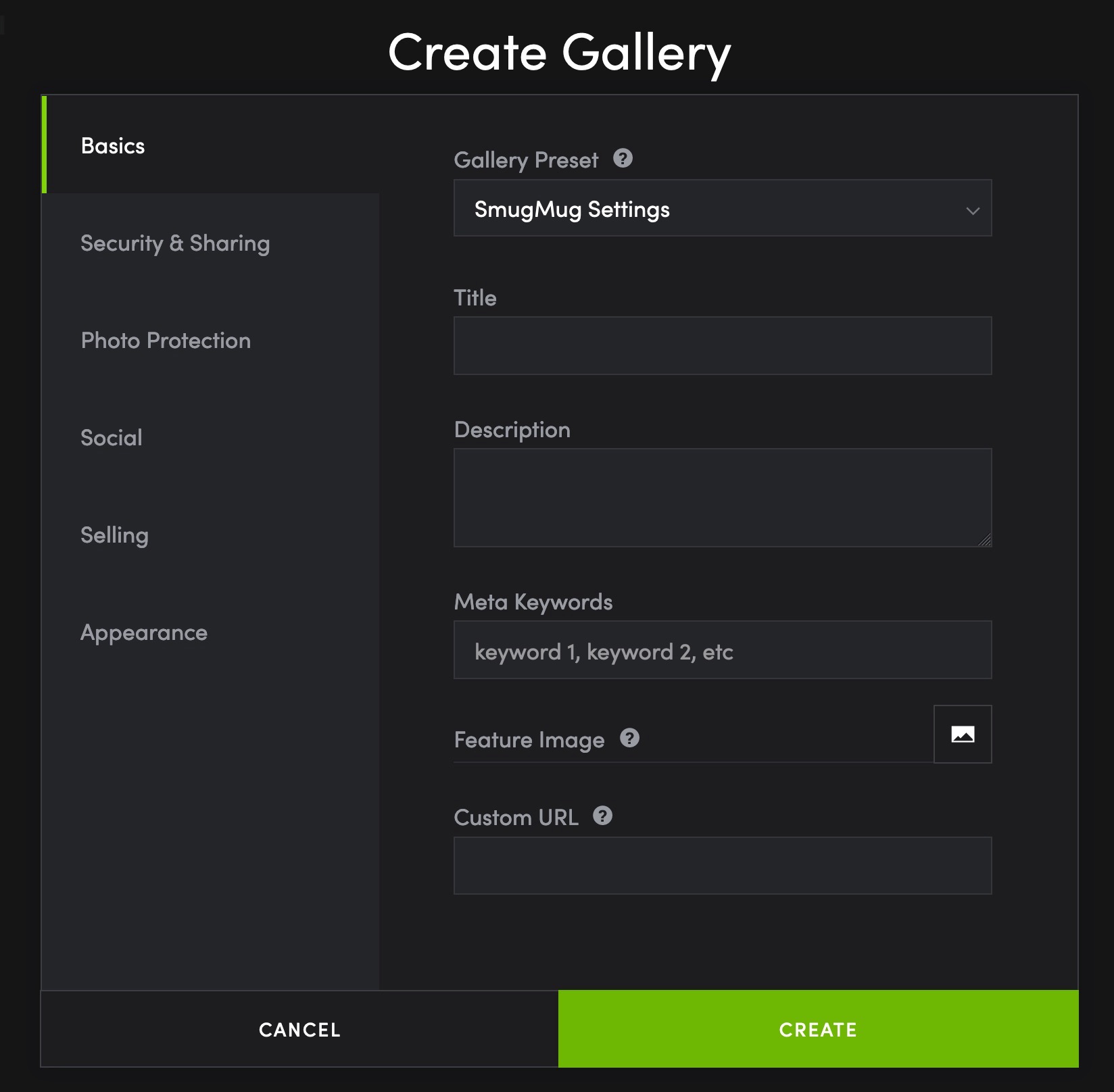 Once you've filled in the gallery name and other information, click Create. You now have a brand-new gallery on your site, and you can start uploading photos to it.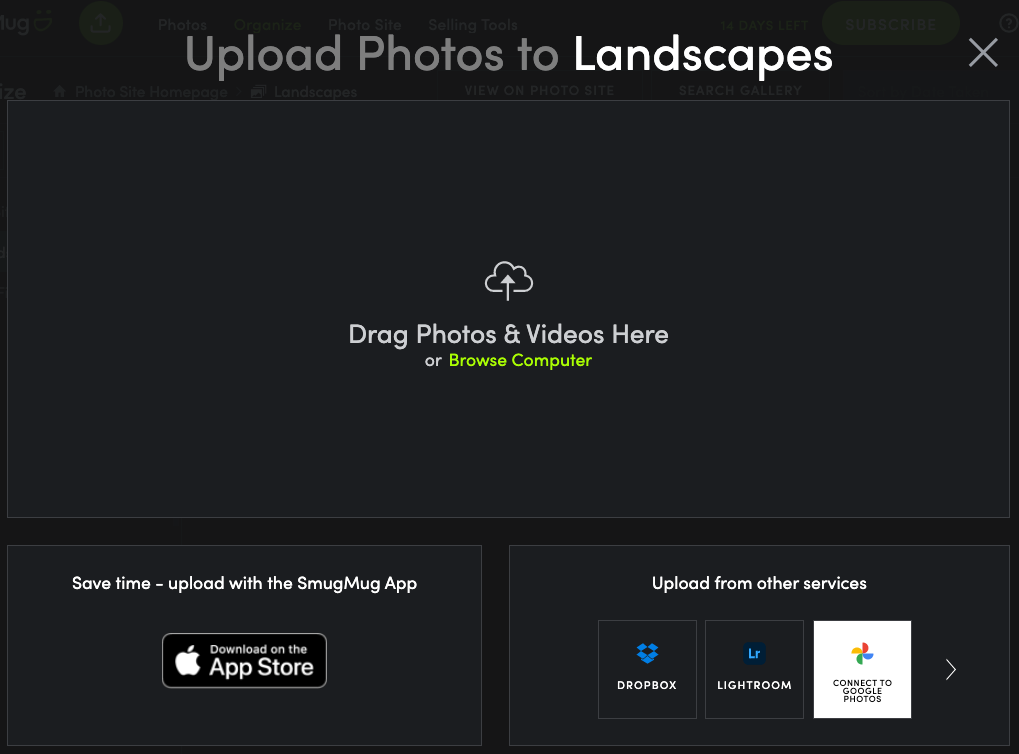 Your new gallery may automatically be added to your homepage, depending on your current homepage content-block settings. (But it doesn't have to be! Learn how to customize your homepage.)
Change your gallery settings.
If you change your mind about any of the initial settings you chose for a gallery, you can tweak them later. (Read more about all the settings available for your galleries.) There are two places you can go to customize your gallery settings:
Click Site, then navigate to a gallery. In the section bar click Settings.

Within the Organizer. Click Organize in the navigation bar, select the gallery, or galleries, you want to change from the folder tree on the left, then click Settings.

Customize your gallery style.
You can change the way your photos appear within a gallery by selecting from one of our gallery styles.
Within your gallery, click the three-dot drop-down menu in the section bar, choose Gallery Style, and select one of the options to adjust the gallery layout. Compare the different gallery styles in this article.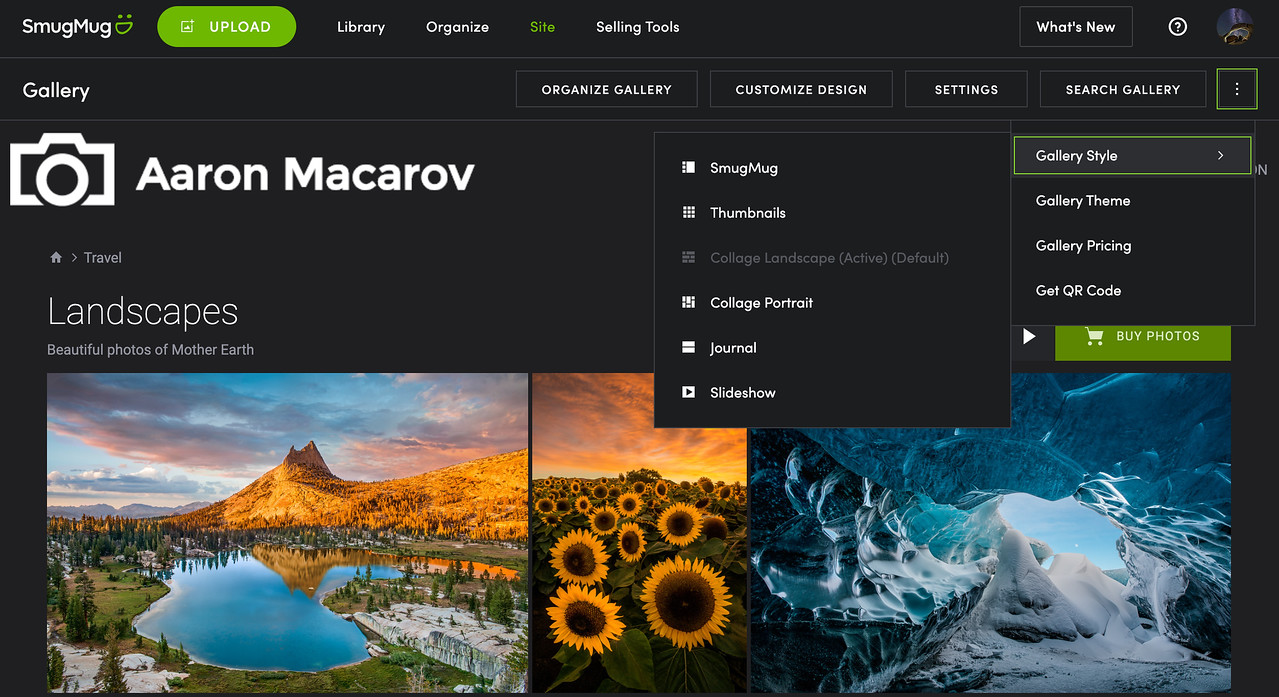 You can also change the entire gallery's appearance by using the Customizer. Click Site, then navigate to a gallery on your site to view it. In the section bar, click Customize Design All Galleries Just This Gallery near the top. This will ensure changes made will only apply to the selected gallery.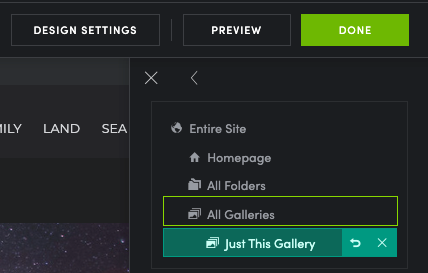 Pick and choose how you want to customize the gallery using content, themes, background, and layout.
If you've saved any themes, they'll show up in the Themes tab, and you can pick one to use for your new gallery.
Customize your gallery prices.
If you have a Pro plan, you can apply pricelists to individual galleries. To do this, navigate to the gallery you want to update, then click the section bar drop-down icon and choose Gallery Pricing.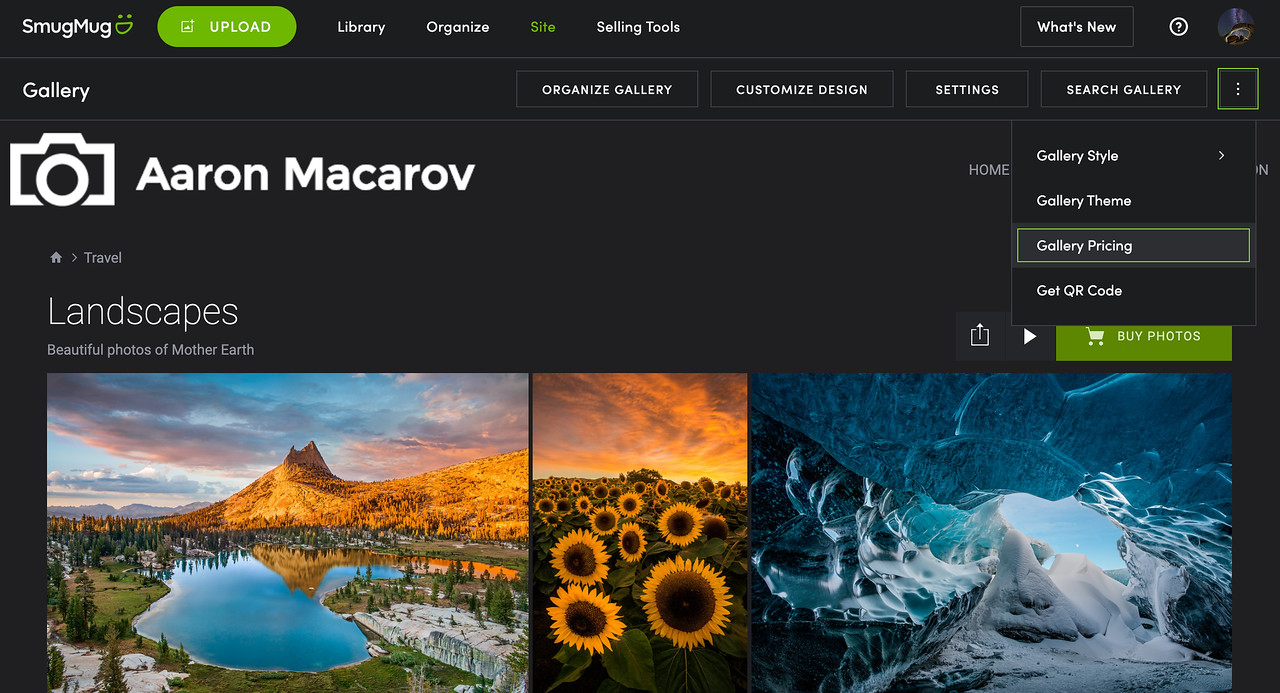 A window will open showing you which pricelist you currently have applied to the gallery.

Click on the drop-down menu to select a different pricelist. Or select the Manage Pricelists button to create a new pricelist if none of your existing pricelists work for your selected gallery.
Once you've selected your new pricing, click Save.
What can't be changed.
There's some core content that you can't change. You'll know these can't be touched when you mouse over them in customization mode and see a little lock icon in the corner.
Note: If you've found the perfect mix of gallery settings for you, you can save them as a preset and apply them to other galleries with a click. Learn more about how to do that here.