Creating custom pages is a feature available for Power plans and above. Basic users will need to upgrade to a higher-tier plan to create pages.
Pages are end points in your site navigation, similar to galleries, but they don't require the addition of photos. They provide you with a blank slate where you can add content, themes, or advanced customizations to create pages that are truly unique to you.
Create and customize a new page.
To create a page, click Organize in the navigation bar and then select the +Create button and choose Web Page from the drop-down menu. Pages can't be created in galleries, so be sure to select a folder, or Site Homepage in the sidebar, before selecting +Create.
Tip: Make sure you're creating a new page if you want full control over the content (an "About Me" page, for example). And create it under your root site (not within a folder) if you want your breadcrumbs to find your new page easily in your navigation.

Next, choose your page type and layout. We offer a few page types in the drop-down menu to help get you started: About Me, Custom, Portfolio, and Pricing. The layout options will change depending on the page type you choose, and thumbnails will update to give you a little preview of what each layout style looks like.
About Me: Horizontal, profile, or vertical
Custom: Free form!—create your own layout from scratch
Portfolio: Galleries, photo collage, or photo slideshow
Pricing: Banners, list, or thumbnails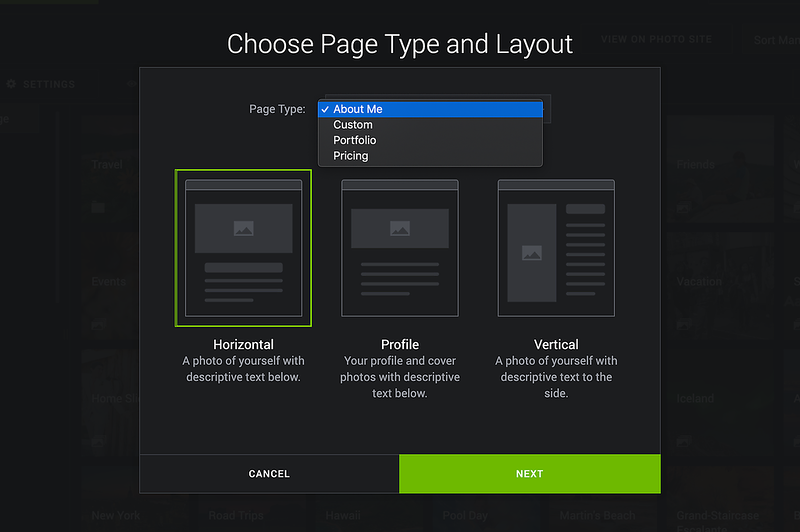 Once you have your page type and layout chosen, click the green Next button and customize the page settings. Select the Create button and you'll be taken into the Customizer to further customize your new page.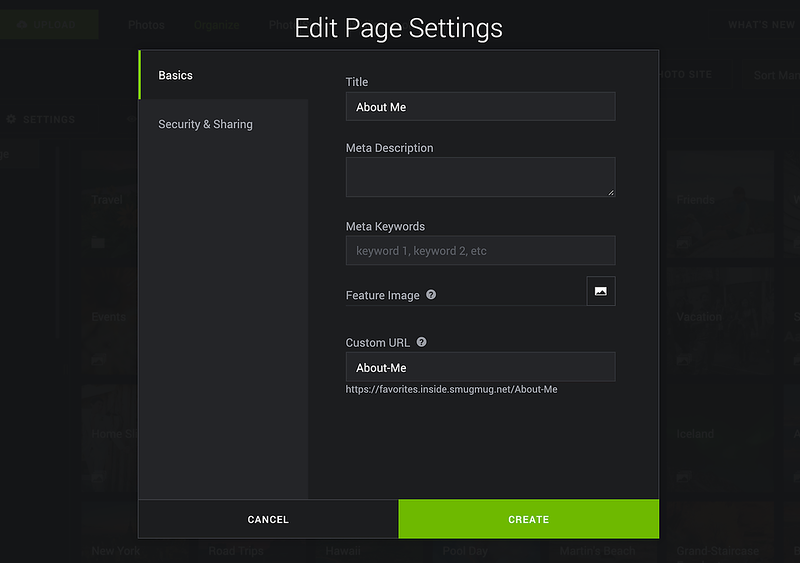 In the Customizer, you'll see that Just This Page is selected. This lets you know that you're customizing only that page.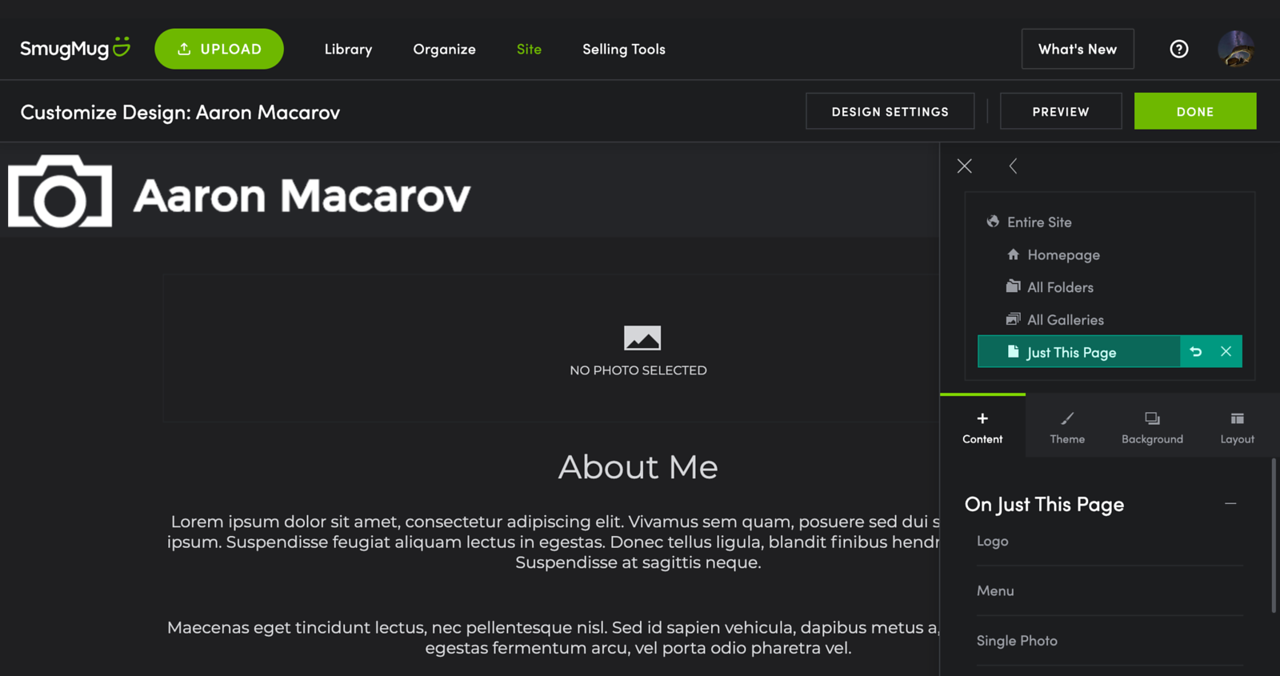 Pick and choose how you want to customize the page using Content, Themes, Background, and Layout. To customize existing content blocks that you've dragged onto your new page, hover over the block until the color overlay and toolbox appears, then select the wrench icon.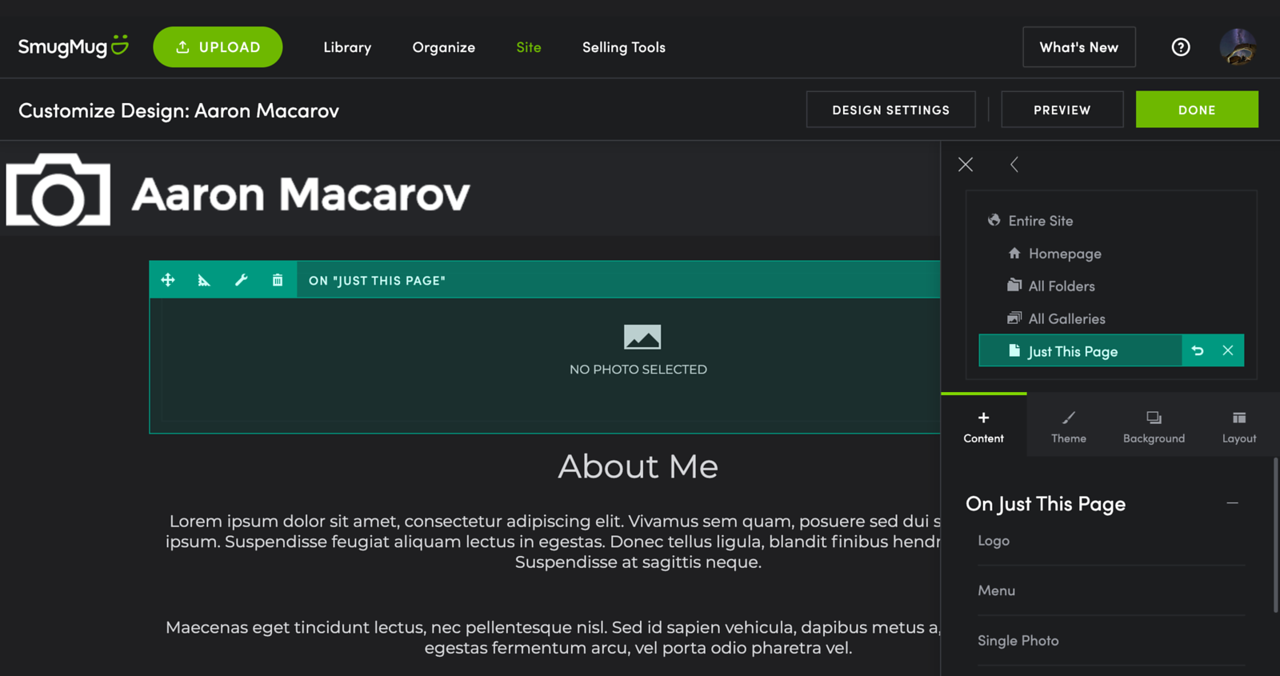 If you've saved any themes, they'll show up in the Themes tab, and you can pick one to use for your new page.
Important: Custom pages only support up to 100 rows of content blocks per page, and each row can contain up to 20 content blocks.
Create a guestbook page.
To create a guestbook page, you'll want to have the following content blocks: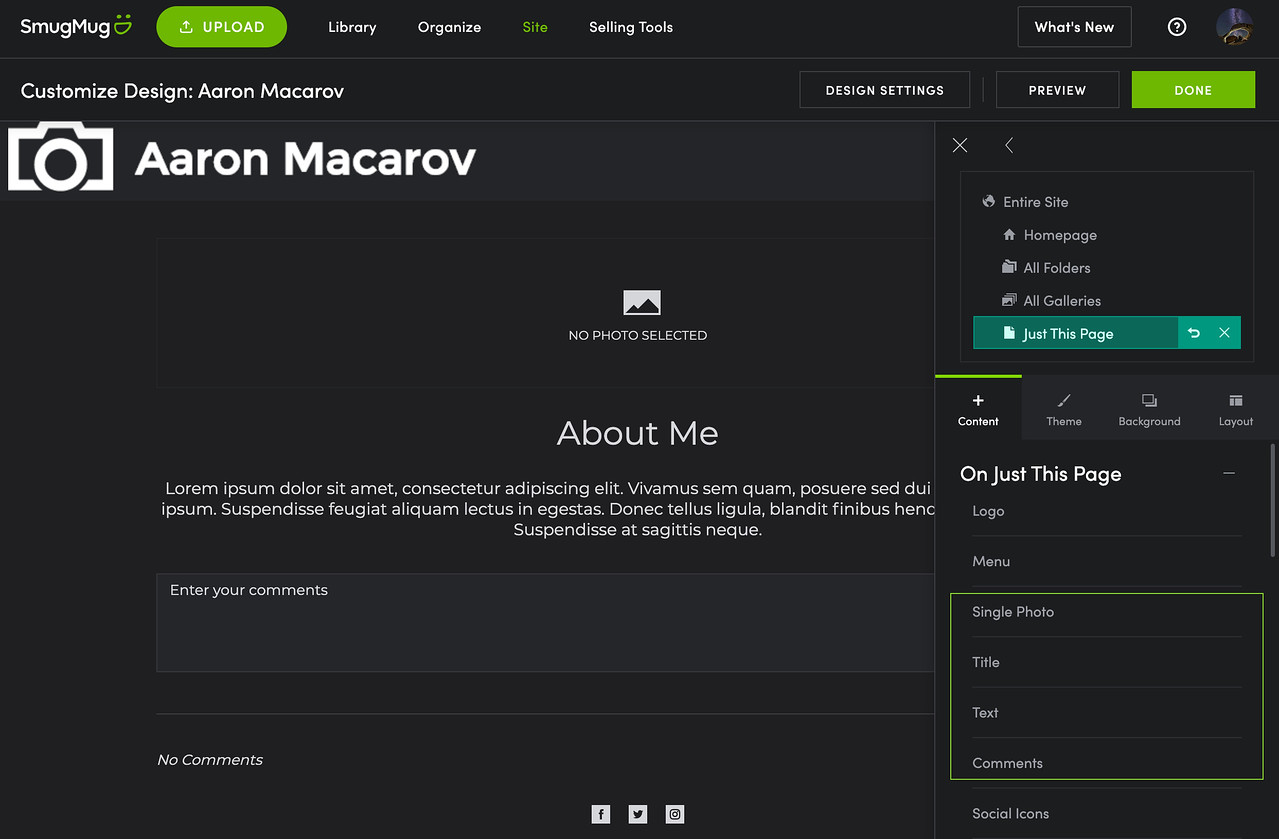 And you'll end up with this: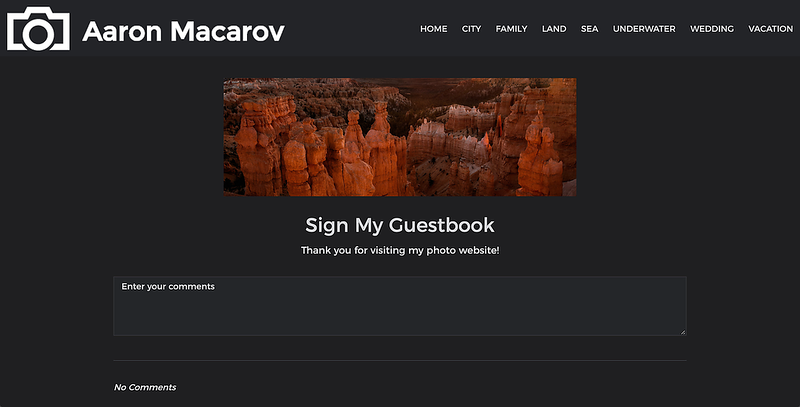 You can even change up the theme for the page if you like!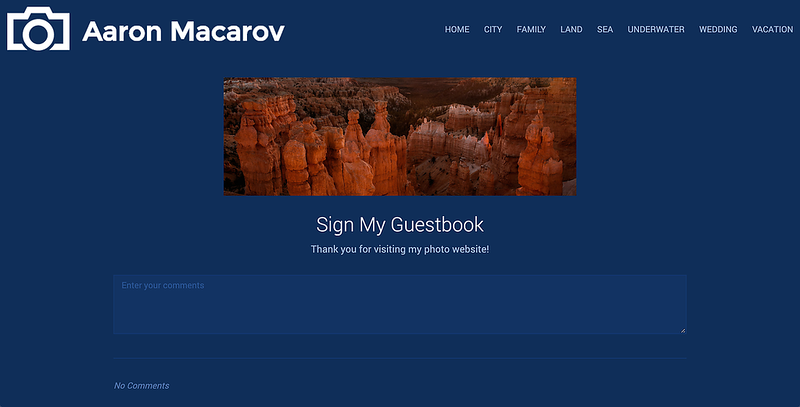 When you have your page just the way you like it in the Customizer, select Done from the section bar and then Publish Now.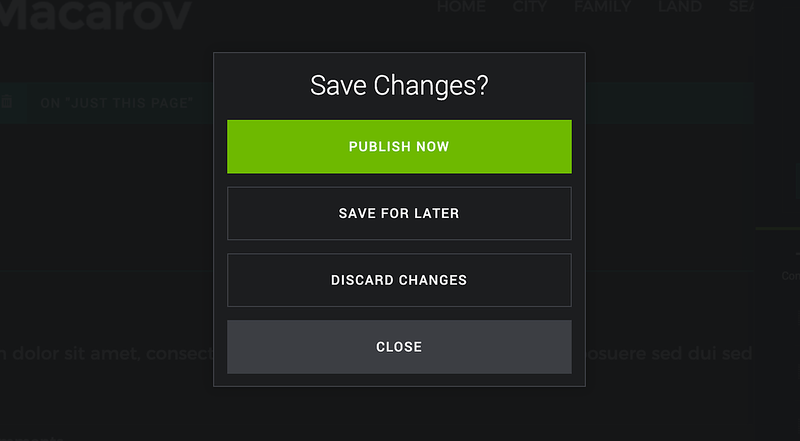 Customize system pages.
You can also personalize pages typically found on photography websites. To view yours, replace the "nickname" in the following links with your SmugMug nickname, then click on Photo Site in the navigation bar and select Customize from the section bar. (You won't find these system pages listed in your Organizer since they can't actually be organized.)
404 page.
This is an error page that shows when people try to visit a page on your site that doesn't exist.
See it: nickname.smugmug.com/404
Your fans may think they typed in a legitimate link. Don't be afraid to drag and drop in a text content block and type up something friendly that invites them to contact you.


Access Denied page.
This is an error page that shows when people try to visit a gallery, folder, or page on your site that you haven't given them access to.
See it: nickname.smugmug.com/access-denied


Client Area.
This is a page for your clients to view photos you've shared privately with them. This page is only available on Portfolio accounts and above.
See it: nickname.smugmug.com/client


Date.
Timeline view lets you search for photos taken within a specific date range.
See it: nickname.smugmug.com/date


Keyword.
Your keyword cloud shows you all the keywords you've entered into your site, and how many photos are found under each.
The results from the keyword search will display in order of the most recently uploaded.
See it: nickname.smugmug.com/keyword
Tip: The keyword cloud content block looks great on your "Browse" page (which is included by default on many of our ready-to-use site designs).


Password.
A page your fans and clients see every time you share a gallery protected with a viewing password.
See it: nickname.smugmug.com/password
Tip: Drop in a title and/or text content block inviting them to email you if they can't remember the right password.


Popular.
Your public photos and videos that other people have liked and commented on the most.
See it: nickname.smugmug.com/popular


Search.
A clean, simple, and extremely useful search field where anyone can type in a search term. Good for photos, galleries, and videos.
See it: nickname.smugmug.com/search


Browse.
A page that lists all the folders, galleries, and pages on your site. When you're logged in, your folders, galleries, and pages accessible by Anyone with the Link (unlisted) and Only Me (private) will show up here, too. A guest viewing your "Browse" page will only see content set to be viewable by Anyone (public).
See it: nickname.smugmug.com/browse
Tip: This page comes already linked in your navigation content block from many of our ready-to-use site designs and is a great place to drop in additional content blocks like the keyword cloud and the map.


What can't be changed.
There's some core content on a few pages that you can't change, for obvious reasons (like password fields on the password page, the content on the Popular page, etc.). But you'll know these can't be touched when you hover over them in customization mode and see a little lock icon in the corner.