Whether you're uploading photos to your SmugMug website so your mom can see her new grandbaby or uploading proofs so your latest bride can choose album photos, we have a few tips to help improve your workflow and get the best possible results for online viewing and print. 
The right steps depend on your intent: are you archiving family treasures, posting thousands of tournament photos and hoping for quick sales, or posting photos into your blog?
These steps will help you figure out what works best for you.
Use the correct file type for your needs.
You can upload and display three popular file types to your SmugMug account: PNG, GIF, and JPG. What's the difference?
PNG and GIF files are usually used for design elements on a web site.
PNG files retain transparent backgrounds and are great for banners, watermarks, and printmarks.
JPG is the main file type of the web. Our print labs only print from JPGs, and digital-download files are delivered as JPGs.
Color space.
We recommend using sRGB because this is the color space used by all four print labs at SmugMug.
File size.
All SmugMug accounts give you unlimited photo and video uploads, which means you don't have to pick which photos matter most. We'll keep them safe and sound for you, so you can confidently upload your full-sized JPGs if you wish. We won't alter sRGB JPG files that are within our file-size limits.
The Sizes of SmugMug

 

Pixels wide

Pixels high

Tiny thumbnails (-Ti)
Up to 100
Up to 100
Large thumbnails (-Th)
Up to 150
Up to 150
Small (-S)
Up to 400
Up to 300
Medium (-M)
Up to 600
Up to 450
Large (-L)
Up to 800
Up to 600
XLarge (-XL)
Up to 1024
Up to 768
X2Large (-X2)
Up to 1280
Up to 960
X3Large (-X3)
Up to 1600
Up to 1200
X4Large (-X4)
Up to 2048
Up to 2048
Important tip: Remember that your upload speed is determined by your Internet service provider and the size of the file being uploaded. You may not want to upload your full-size JPGs so you can upload your photos quickly!
If you're uploading for display only, you may wish to resize your photos prior to upload. If web display is your only need, then resizing your files to match the largest display size could work for you.
If your images will be printed (by you, your friends and family, or your customers), then you need to be sure to upload enough pixels for a high-quality print. We have minimum pixel requirements for each size of print offered through our labs, shown here.
If you're archiving your JPGs, then you'll want to be sure you're uploading your full-resolution, print-quality files (Lightroom 90 or Photoshop quality 10). 
Seller accounts: What if you have a thousand photos in your event, but you know your clients will only buy a few prints? Use proof delay. This way you can quickly upload lower-resolution files (Lightroom quality 50 or Photoshop quality 5), then replace only the images they buy with edited, full-resolution versions before the order goes to print. Your customers won't know the difference, and you'll save tons of time.
Cropping. 
Cropping is a tricky topic because, as artists, the final composition of our photos matters to us. Whether the composition is set in camera, or during post-processing, there are some things you should keep in mind for print. 
Composition matters. Whether your photos are art prints or family portraits, you'll want to ensure that all important elements/subjects of your photo are included in the final printed product. The best way to handle this is by selecting print sizes that match the aspect ratio (shape) of your photo. Ordering prints with the same aspect ratio of your photo will prevent the need to crop your image to print it.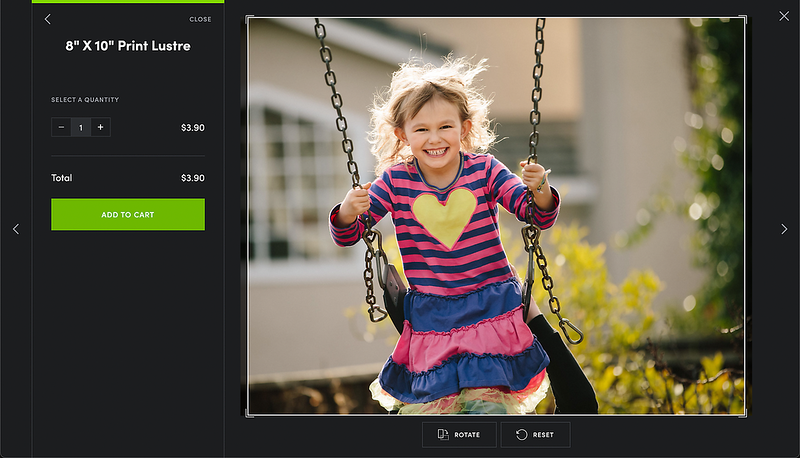 Many dSLR sensors have a 2:3 aspect ratio. Common print sizes that fit this shape are 4x6, 8x12, 10x15, 12x18, 20x30, and 24x36. 
Most consumer cameras (and some dSLRs) have sensors with 3:4 aspect ratios.
Canvas caution! Be particularly mindful of your composition when selling (or buying) wrapped canvas prints, as those require lots of additional space around the subject. How to get a canvas-ready image.
For portrait photographers wanting to offer the largest variety of print sizes, our best advice is to compose in camera with lots of space around your subject. If you're starting with an image with a 2:3 aspect ratio, you'll need to leave lots of space around your subject in order to accommodate a 4:5 aspect ratio print: the dreaded 8x10. Alternatively, if you have a seller account, you can choose not to offer 8x10 products and instead sell only 8x12s. Do this by adding only 8x12s into your pricelist.
Lab color correction.
It's important to understand that photos always look darker in print than on your monitor. Why? Physical prints are lit with reflective light, and your monitor and camera LCDs are lit with transmitted light.
The brightness of the print will be determined by the light you view it in. The way you see the photo on your monitor will be determined as much by your monitor brightness as it will be by the actual pixel data in the image. The print lab, of course, only has the pixel data from the image to work with.
Our labs all offer a color-correction service so your photos will print as beautifully as possible, even if you aren't a skilled photo editor. Bay Photo, White House Custom Color, and Loxley Colour use technicians to evaluate brightness, color pop, and white balance. The changes made are global changes to the file as opposed to local adjustments. 
If you have a personal editing style, make use of special effects such as vignettes, or produce moody fine-art prints, then you'll want to order some test prints to ensure your photos print exactly the way you expect.