Getting started.
If you have a Portfolio or Pro account, your customers can buy digital downloads of your photos and videos if you set prices for them. You'll do this in your pricelists.
You can find the digital download sale options by clicking Choose Products when you edit your pricelists. Choose what size(s) you'd like to make available for photo downloads from Lowest-Res (~640x480 pixels), Low-Res 1 Mpix (~1,000 pixels), Hi-Res 4 Mpix (good for 8x10 print size), 4k (8.3 Mpix), or Original (full resolution of your original upload).
Setting prices for any of the download options will cause them to appear as choices in the shopping cart (along with their license agreements).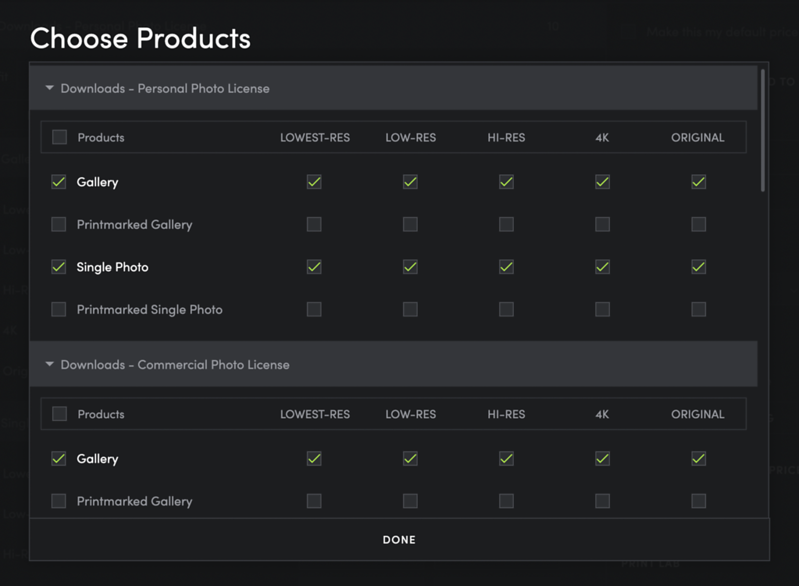 Gallery Downloads are the price you set for the whole gallery. For example, you can set gallery download pricing on a gallery containing eight photos and two videos at $75, while you price individual photo and video downloads at $10. This is an easy way to offer a 25% discount when someone buys the whole set. Gallery download .zip files contain all photo and video files in the gallery.
Single Photo Downloads are your single-image prices. They follow all the usual pricing rules.
Printmarked Downloads are digital files that include the printmark you've set for the gallery. In addition to adding this product to your pricelist, a printmark needs to be selected in the Gallery Settings > Shopping tab. 
Video Downloads are exactly what they seem: you can choose to sell copies of your videos in 720HD or 1080HD, with personal and commercial license options.
Important: If you subscribe to SmugMug Source, and have Shopping turned ON in a gallery with RAW files, the display JPGs for those RAW files will be available for a guest to purchase. The RAW files are never available for purchase. To prevent the display JPG files from being available for purchase, turn Shopping OFF in the gallery settings. Navigate to the Organizer > Gallery > Settings > Shopping tab > turn shopping OFF.
Digital downloads have a base cost of $0.01 for single files and $.99 for a gallery download to cover processing and delivery, which is charged to the seller. If your buyer's shopping cart has a subtotal of less than $10.00 and contains at least one download file, we'll add a $0.50 processing fee to the buyer's total.
But you can offer your downloads for free using coupons or by enabling the download button in the gallery settings. On the Pro plan, you also have client downloads available as well. 
A word about sizes.
You can sell both personal and commercial licenses for five sizes of photos and two sizes of video.
To find out how many megapixels an image is, just multiply the pixel dimensions together and divide by 1 million. For example, an 812x1217 image is 988,204 pixels. Divide that by 1 million and you get .988204 (just under 1 Megapixel). 
If it's twice as wide and tall, or a 1632x2448 image, it'll be nearly 4 Megapixels. This size is great for online use and prints up to 8x10.
4k is 8.3 Megapixels, which would be an image about 2350x3524. Even with a bit of cropping, this size will be big and beautiful online or in print up to 16x20.
If you offer the original size downloads for sale, they will appear in the cart regardless of the image size. If you offer Lowest-Res size, Low-Res, Hi-Res, or 4k, those sizes will only appear if the image is large enough to fit that size.
Details.
After checking out, your customers can retrieve their downloads by clicking the links we send them in their order email. If they bought at least four photos, they can retrieve them in bulk. We'll wrap their purchases into a .zip file and send them an email when it's ready.
When you're logged in, you won't be able to purchase your own digital downloads in the shopping cart. To see the prices your customers see, make sure you log out first. Or, better yet, use a different browser window where you're not logged in to your SmugMug account.
Your watermarks won't appear on the images your customers purchase. Want your name and logo on the digital file? Price and sell the printmarked versions.
Tip: We'll preserve IPTC, EXIF, and other metadata in the JPEGs that are sold. Should your image be posted online or used inappropriately somewhere else, you may be able to track it. This isn't foolproof, but it's still probably worth your time to properly fill those fields prior to upload. It's a big first step in making sure the terms of the license are followed.
Personal license.
Photographer or videographer ("Content Provider") grants buyer a non-exclusive perpetual personal-use license to download and copy the accompanying image(s) or video(s) (collectively, "Media,") subject to the following restrictions:
This license is for personal use only. Personal use means non-commercial use of the Media for display on personal websites and computers, or making image prints or video copies for personal use. The Media may not be used in any way whatsoever in which you charge money, collect fees, or receive any form of remuneration. The Media may not be used in advertising. The Media may not be resold, relicensed, or sub-licensed.
Title and ownership, and all rights now and in the future, of and for the Media remain exclusively with the Content Provider.
There are no warranties, express or implied. The Media are provided 'as is.'
Neither Content Provider nor SmugMug will be liable for any third party claims or incidental, consequential or other damages arising out of this license or buyer's use of the Media.
Commercial license.
What you can do: Photographer or videographer ("Content Provider") grants you a perpetual, non-exclusive, non-transferable, worldwide license to use the accompanying image(s) or video(s) (collectively, "Media,") for permitted commercial purposes, defined as:
advertising, promotion, brochures, packaging
as part of a commercial website for promotional purposes (maximum 800x600 pixels) use
prints, posters, flyers, tearsheets for promotional purposes (not for resale)
prints, posters, or other commercial display of Media
magazines, books, newspapers, other printed publications
video, broadcast, theatrical
What you may not do: Buyer may not resell, relicense, redistribute without express written permission from Content Provider. Use as a derivative work, and reselling or redistributing such derivative work is prohibited. Media may not be used in a pornographic, obscene, illegal, immoral, libelous or defamatory manner. Media may not be incorporated into trademarks, logos, or service marks. Media may not be made available for download.
Content Provider retains all rights, license, copyright, title and ownership of the Media.
There is no warranty, express or implied, with the purchase of this digital image or video file. Neither Content Provider nor SmugMug will be liable for any claims, or incidental, consequential or other damages arising out of this license or buyer\'s use of the Media.