The client area takes our private-sharing feature to the next level by consolidating the photos you've shared with clients in one easy-to-find location on your SmugMug site. Save your clients the hassle of keeping track of any links.
Portfolio and Pro account holders can see this client area at nickname.smugmug.com/client. Just replace "nickname" with your SmugMug nickname.
Using a custom domain? No problem! Use yourcustomdomain.com/client, replacing "yourcustomdomain" with your own domain name.
Note: On a Basic or Power plan? You'll need to upgrade to use this feature.
You can also add a link to the client area in your navigation menu.
This page is also fully customizable for Portfolio and Pro accounts. Brand away!
Set it up.
First, you'll want to create galleries, folders, or pages for your client using our private-sharing feature. Follow the details on that page to invite your guests and grant them access to view any photos you upload to these private areas.
Once your client has accepted your invitation, they can navigate directly to the photos you shared with them using the /client URL, nickname.smugmug.com/client, or by following a link directly on your site.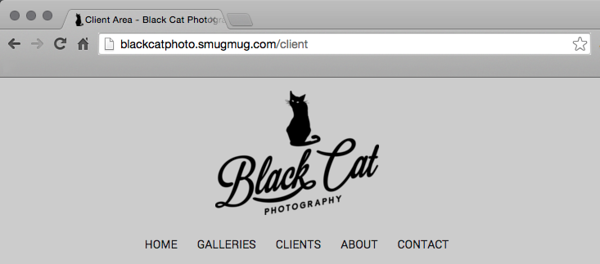 They'll need to log in using the SmugMug guest account they created when accepting your private-sharing invitation. This ensures only your clients see their privately shared photos. If they visit the client area while logged out, they'll be asked to log in before being shown their photos.
Tip: If your client forgets their log-in information, they can request a password reset using the "Forgot Your Password" link on the log-in form.
Link it.
You can make it even easier for your clients to find their page by adding it as a link to your navigation menu.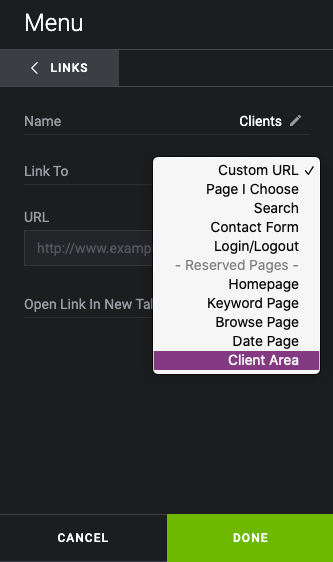 You'll find it in the Menu content block link options, listed as Client Area.
Customize it.
Just like your Browse, 404, and Popular pages, your client area can be fully customized. Give it your own personal touch, leave instructions for your clients, or add an infinite combination of items to the page.
Note: You can only customize content above or below your shared folders, galleries, or pages. And all your clients will see your customizations; customizing the page for specific clients isn't possible.
What's the difference between the client area and the Shared with Me dashboard?
The client area is where your clients can see only the photos you shared with them, with the look and feel of your own site. The Shared with Me dashboard, on the other hand, can contain shared photos from other photographers and has a standard SmugMug look and feel.
The client area allows your clients to stay on your SmugMug site and still browse the photos you've privately shared with them.