Themes? Content blocks? What does it all mean?
We want to make SmugMug as easy as possible to use, so we deciphered our most commonly used terms to help you figure out what's what around your site.
Account settings: Control central for all things related to your account. You'll find them and all your owner controls under the profile icon in the top-right corner of the navigation bar.

/browse: Special page that lets you and your visitors see all your folders and galleries in one place. Add "/browse" to the end of your main URL to access.

Content blocks: These are the building blocks for creating your site's content. Drag and drop every essential piece of a photography site (navigation, galleries, social media, videos, etc.) into your design easily.
Customize design:  One of the menu items available when you have Site selected in the navigation bar. For Power, Portfolio, and Pro accounts, this opens the Customizer, which allows you to completely personalize your SmugMug site. This menu is also contextually aware, so if you open it from within a gallery, you'll be shown options to customize your galleries. For Basic accounts, using Customize Design takes you to your homepage for customizing the page content.

Folder:

A type of page that is primarily used to organize other hierarchy pages (folders, galleries, pages) for navigational purposes. There are five folder levels, and any page type can be contained in a folder (folders, pages, galleries). However, images cannot live in folders; they must be in galleries. Folders can be fully customized just like any other page type.
Gallery:

A type of page that's default behavior is to contain images. The gallery style itself cannot be removed or customized over, but otherwise it can be fully customized like any other page. For organization, galleries are endpoint pages, meaning a folder, gallery, or page cannot be nested within a gallery.
Hierarchy: Your SmugMug site allows you to organize your photos up to seven layers deep: photo site folder folder folder folder folder gallery (or page). We've named the layers folders. And the endpoints are named galleries or pages, which are blank slates to which any page element(s) may be added.
Layout: The ability to customize content block placement within the Customizer and how content appears sitewide on a single page or within a content block. Adjust page widths to be fixed or stretchy, tweak margins around content, add sidebars, and pin sections.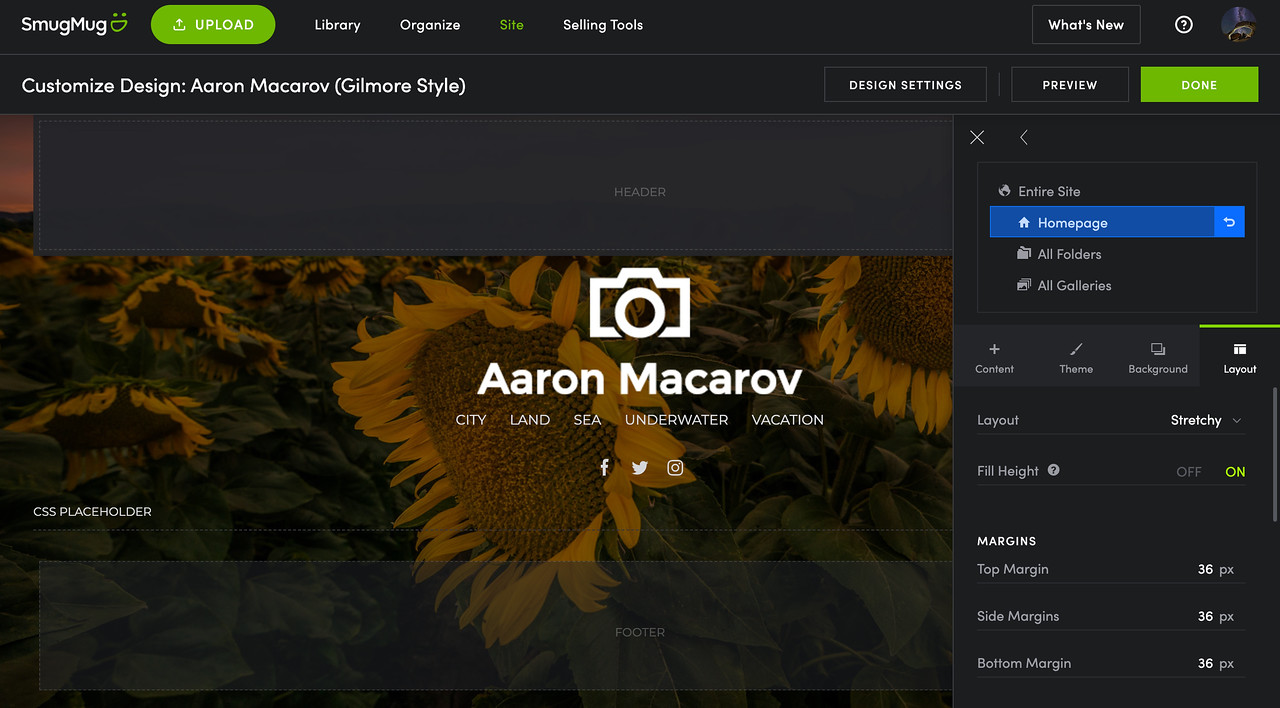 Lightbox: The full-screen view you or a visitor sees after clicking on a specific photo. SmugMug honors your maximum-display size set in gallery settings and then automatically detects the largest size at which we can display the photo based on the viewer's monitor resolution. You can customize your SmugMug lightbox.
Navigation bar: A navigation bar that is persistent throughout your site and follows you around when you're logged in, allowing you to always access all your tools from a single, convenient location. The navigation bar is only visible to you, the logged-in owner. The viewing experience for your visitors is much cleaner, allowing them to concentrate on your beautiful photos and, if you choose, the big, bold buy button. 

Organize: One of the menu items available in your navigation bar. This opens the Organizer, from which you can manage and arrange all your content:
Change any folder, page, or gallery settings.
Sort, arrange, and delete folders, galleries, and pages.
Create new content pages by clicking the + Create button in this menu.

Pages: Pages are different from galleries and folders only in their default behavior. They start blank initially. Pages can contain content blocks and be customized just like any other page. They are an endpoint, meaning a folder, gallery, or another page cannot live under a page. Primary uses for pages include "about me," "pricing info," etc.
/search: A special page that allows you and your visitors to search your photos, videos, galleries, folders, and pages all in one place. Add "/search" to the end of your personalized SmugMug URL to access.
Section bar: The content of the section bar changes depending on the type of page you're working on (e.g., a gallery, folder, or page).
Selling tools: One of the menu items available in your navigation bar if you have a selling account (Portfolio or Pro). This allows you to access your selling tools from any page on your site. View your sales history, adjust pricing, manage your personal branding options on orders, and edit your coupons, packages, and events.

Site design: The overall formatting of your site and a starting point for getting your site up and running. Allows you to choose from one of our ready-to-use designs to get you started with your customization.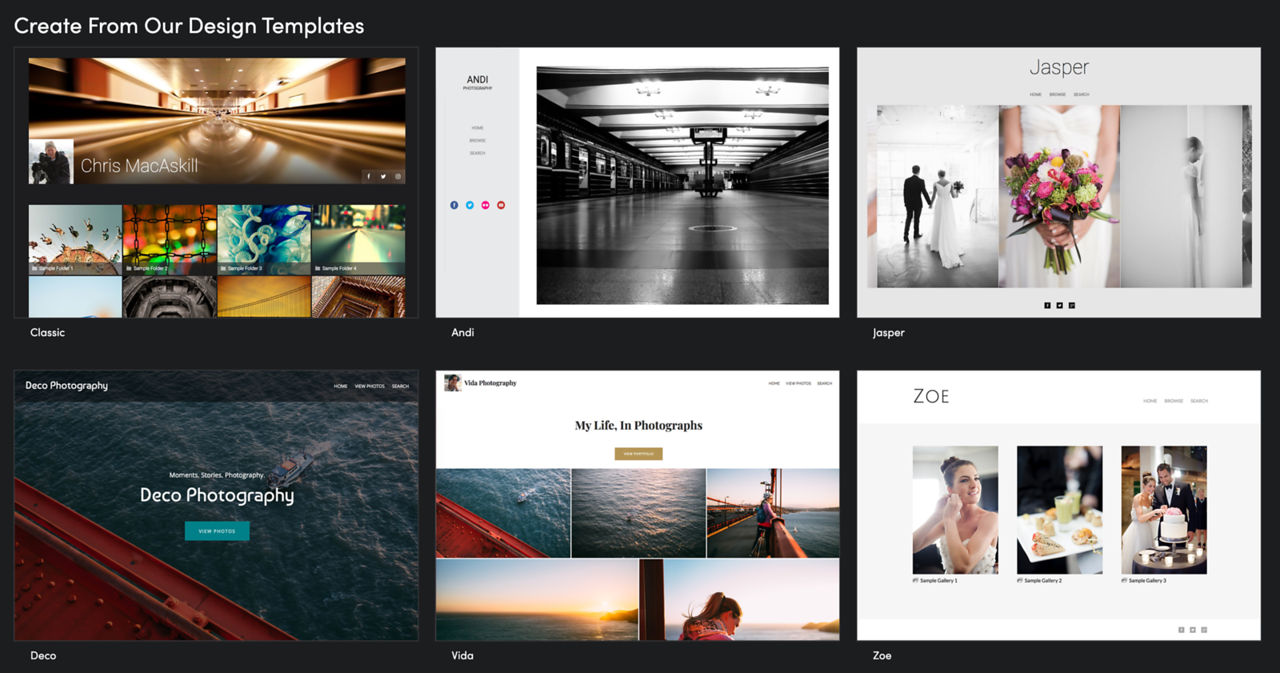 Theme: Fine-tuning menu for design that allows you to control colors, palettes, and fonts; customizations here are carried through to your cart (background color, borders, and fonts all change to be complementary to colors you've chosen). When creating a new design, themes will have default skins and patterns available in categories.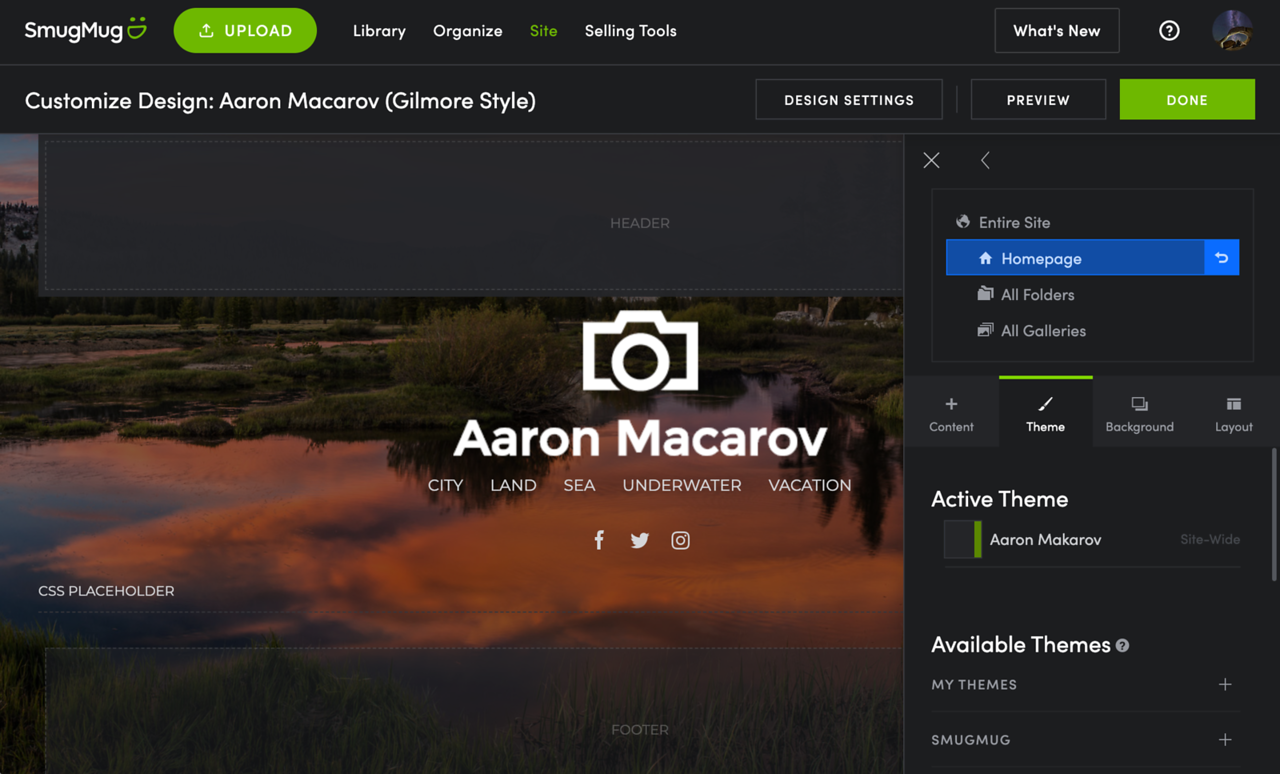 Upload: One of the menu items available in your navigation bar. The Upload button is shown on every page of your site, and it knows whether you're on your homepage or within a folder or gallery. The proper menu will display depending on the page you're viewing.