Welcome to your beautiful new site! We want you to feel right at home and make your galleries truly yours, so we've put together this walk-through to help you get started.
Before you begin.
When you start your free 14-day trial, you've got access to most of the features SmugMug has to offer. You may see some features that won't be available later when you sign up for a full account, because not all features are available at all plan levels.
You can always find your most important features at the top of your page in the navigation bar when you're logged in: Upload, Library, Organize, Site, and Selling Tools. These will remain in view no matter where you are on your site.

At the top right, you'll see, "What's New." This gives you the highlights of what's been changed or added on SmugMug since your last log-in. The "?" takes you to our Support Center, where you can find answers to your questions. Then there's the profile image. Click it any time to access your account details, edit your profile, view your billing information, and more.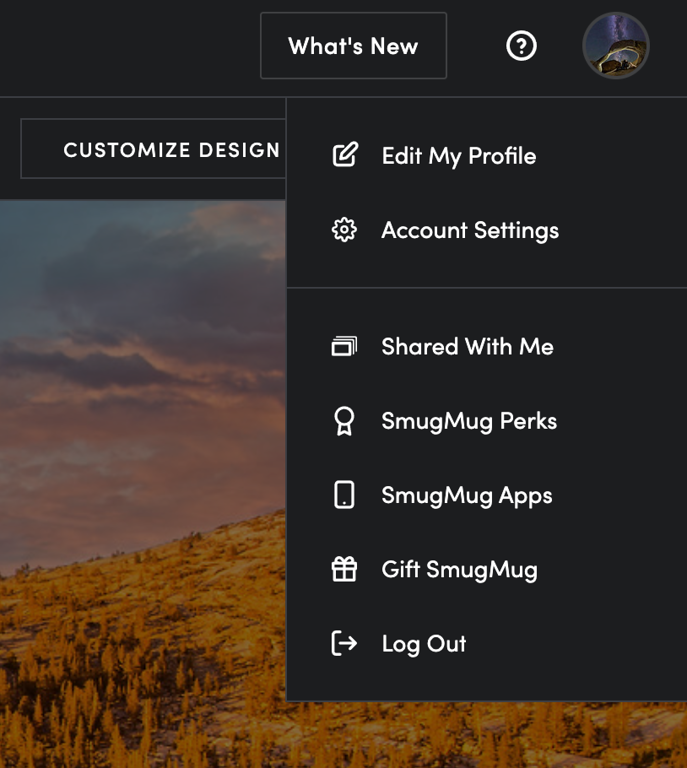 The section bar will change depending on the page you're viewing. For instance, from the Site Homepage it will say, Customize Design and Search Site with a drop-down menu for New Site Design, Change Site Theme, and Get QR Code. If you choose a gallery, the section bar will display Organize Gallery, Customize Design, Settings, and Search Gallery with a drop-down menu for Gallery Style, Gallery Theme, Gallery Pricing, Get QR Code, and Create Client Download. 
Note: Gallery Pricing and Create Client Download are options only seen on the Pro plan.
It's a good idea to fill out your profile with a little information about yourself and your favorite social-media links so visitors to your site can learn more about you. You can also upload a profile photo, which will replace the blank silhouette icon and personalize your site a little more. Access your profile by clicking on the "me" icon upper right, then Edit My Profile.
Upload your photos.
How do I upload?
Our in-product quickstart guide will show you where to click. The first pages will walk you through a welcome that allows you to choose your design template and then add photos to your site.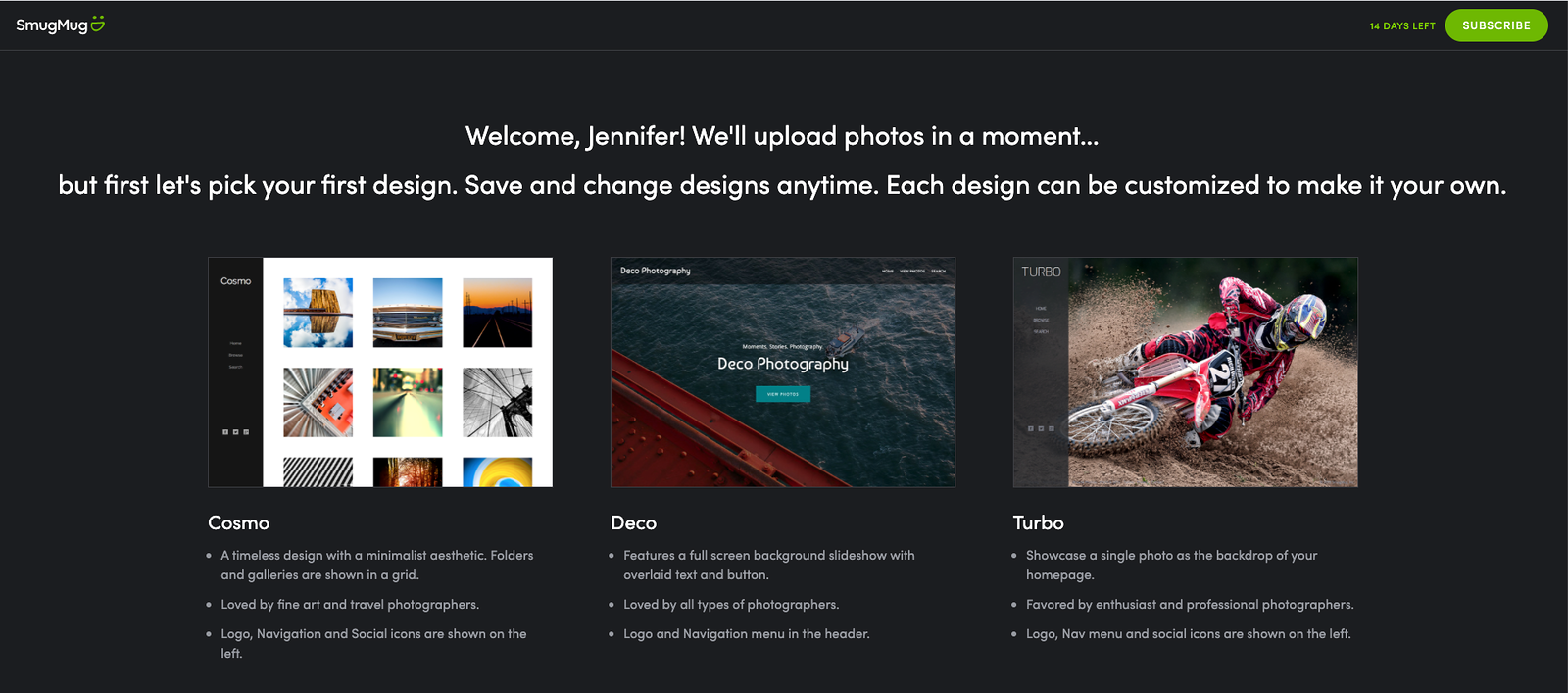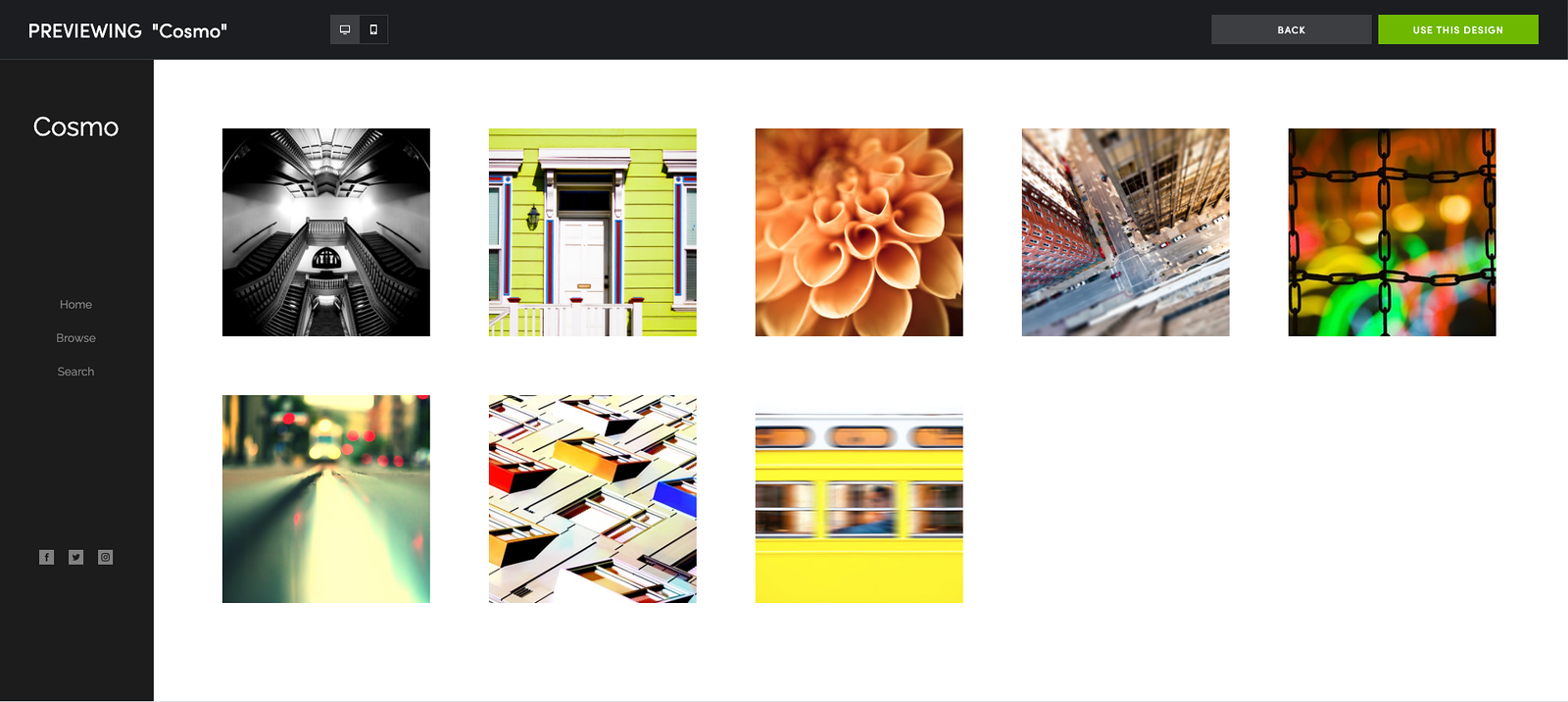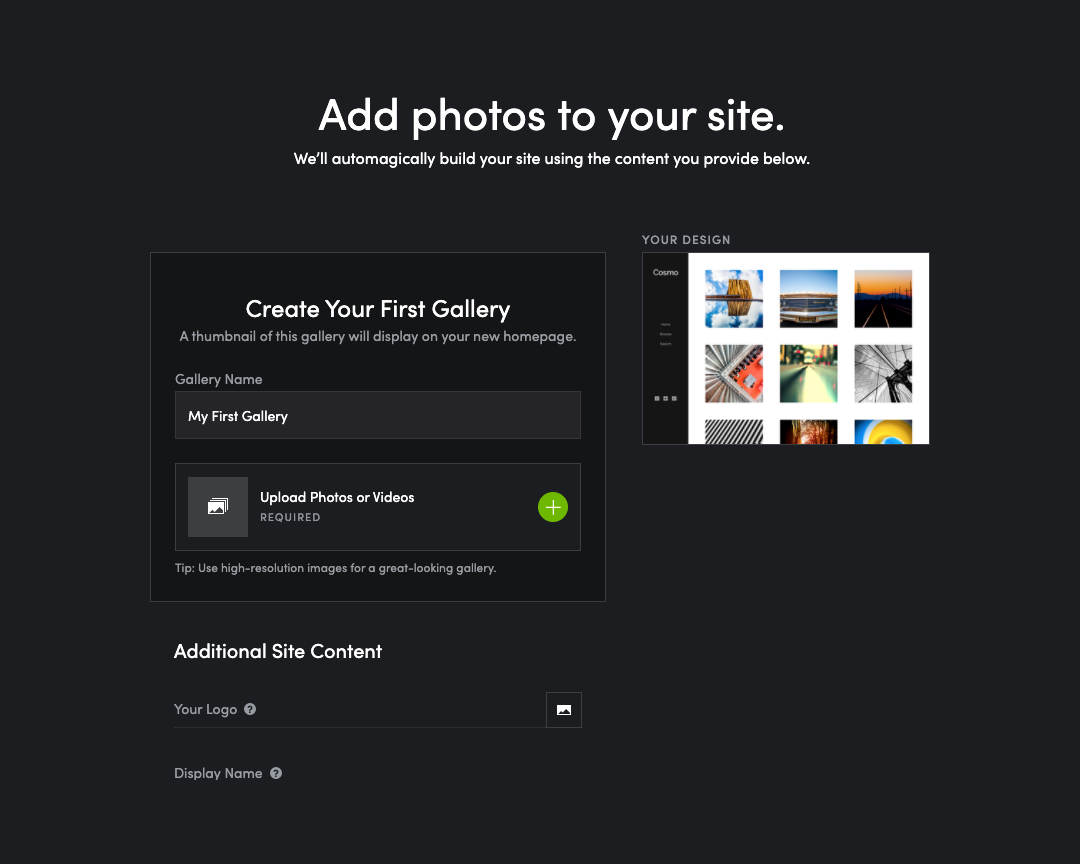 To upload, click on the green + button in the Add photos to your site screen. You can upload as many or as few photos as you like to get started, but a handful will give you a good idea of how your site design works with your photos. And you can upload several images at once! Learn more about uploading photos (and videos!).
When you enter the Organizer or the Customizer, you'll see blue Get Started options. Each will walk you through these parts of your site with blue "helpie" screens to show you where to click and specific options.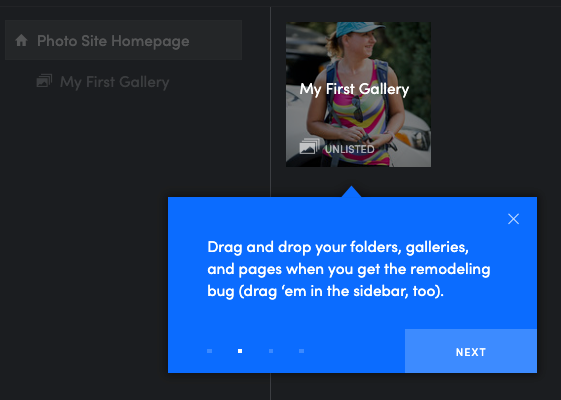 Tip: If you use Lightroom (LR), try our totally free Publish-to-SmugMug plug-in. It lets you sync your online galleries with your LR catalog, publish photos directly from LR, and more.
What can I upload?
Accepted file types for uploading"You can upload an unlimited number of JPEG, GIF, and PNG files up to 500 mebibytes (a little over 500 megabytes) and 4 gigapixels in size and videos up to 20 minutes long and 3 GB in size. Each gallery can hold up to 5,000 images/videos.
Note: RAW files can be uploaded with a SmugMug Source subscription.
Is there a way to organize my photos and videos?
Yes! Your photos live in galleries you create, and you can organize your galleries into folders, just like you might do on your hard drive. Each folder can contain up to 5,000 galleries.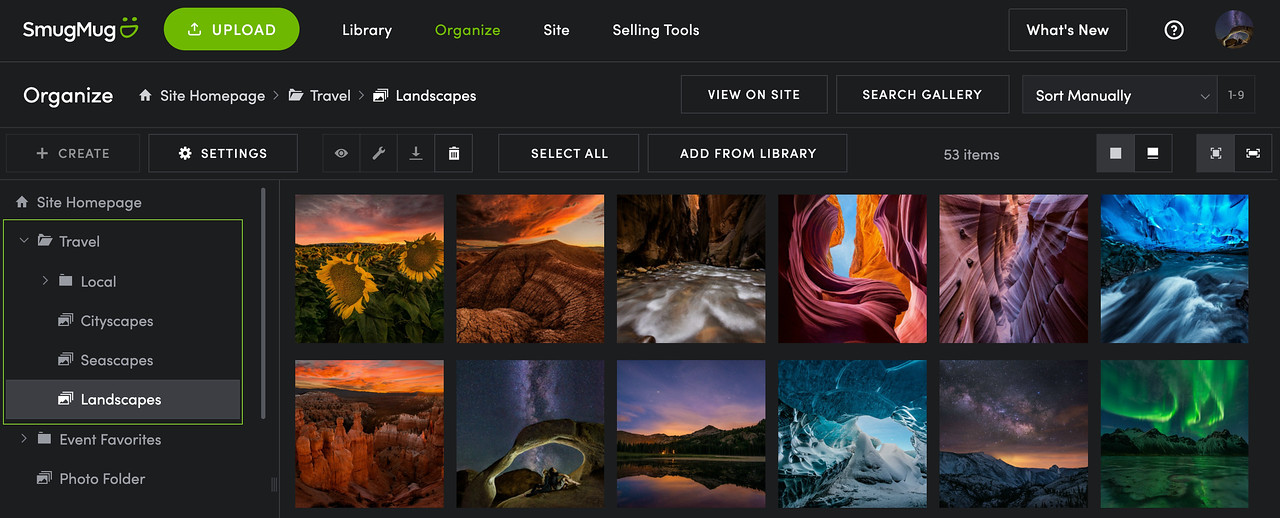 Additionally, you can create a folder inside another folder, so that everything you shoot is neat, organized, and can be sorted in whatever ways works best for you.

Check out more about our Organizer, which allows you to drag and drop your photos, galleries, and folders for perfect sorting.
Choose who can admire your photos.
Are there any privacy options?
Privacy is a big deal to us, so no matter who you want seeing your photos, we've got you covered. 
You have three layers of Visibility:
Public (Anyone): If a gallery or folder is displayed somewhere on your site, anyone can view it. If you want search engines like Google to find your photos, use this setting.
Unlisted (Anyone with the Link): Only people who have a direct link can see the gallery or folder.
Private (Only Me): This gallery or folder is visible ONLY to you, the logged-in owner. No matter what.
And additional layers of Access:
Anyone: Anyone visiting your site can view your photos. Pair this with Public visibility and you've got the most discoverable option if you're wanting to be found.
People with Password: This option can be applied as an additional security measure to Public or Unlisted items. Only those who enter the proper password can see the contents. We won't ask you for it when you're logged in as the site owner, so you can browse your site quickly.
People I Choose: Only people you've sent special invitations to will be able to see the content within a gallery, folder, or page. Learn more about Private Sharing.


Setting privacy settings on a folder will automatically apply that setting to all the content inside of it—unless you specify otherwise.
Tip: Want to work on your site without the world watching? Set a sitewide password or make your entire site invite-only for a complete blanket of privacy. Just remember to remove it when you're ready to go public!
How do I set the privacy for my site, gallery, folder, or page?
You can set privacy when first creating a gallery, folder, or page, and you can change that setting any time through the Organizer, or through gallery, folder, or page settings. Check out this in-depth article for the full how-to.
What security features are available?
You get tons of photo-protection features built in to your SmugMug galleries, and we recommend you use them all to keep your photos safe from right-clicking, screen grabbing, and more. 
Customize your site.
Is there a way to change my design?
There certainly is! To start playing with our powerful customization tools, in the navigation bar click Site then Customize Design in your section bar. From here you can change your Entire Site, Homepage, All Folders, or All Galleries. You can even tweak the theme, colors, and layout. You can update your Design Settings and even Preview the site to see how your changes will look.
If you want to start over with a new design, you'll find that option in the section bar drop-down menu: New Site Design.

You can choose a new site design any time, make changes to it, save it, and then swap between saved designs with a click. It's a simple way to give your site a whole new look and feel…and you don't have to move your photos.
Can I make my homepage more unique?
Yes. From your Site make your homepage shine with our Customizer and a variety of content blocks. Change themes, colors, fonts, and more. Add a slideshow, change the background, add some navigation—the possibilities are nearly endless. Basic plan users, check out this article for more info on how to customize your Site homepage. 
Can I create more pages, like About or Contact?
If you're a Power plan or higher user, you can add as many custom pages as you like. This article has all the details and how-to.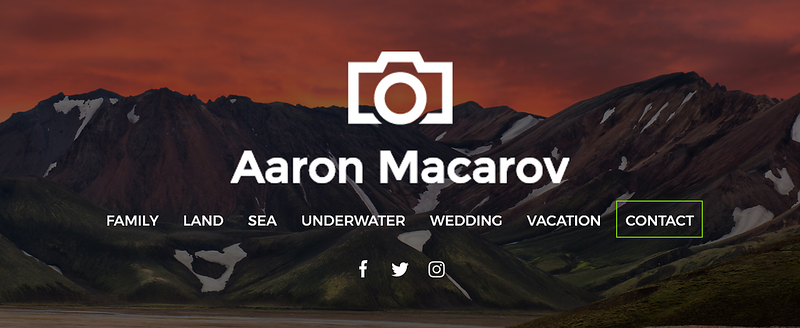 Basic plan users, you'll need to upgrade your plan to use the pages feature.
Can I use my own URL?
Power, Portfolio, and Pro users can buy and hook up their own custom domain.
Make yourself known.
How can people find my site?
We've got tons of info about how to get the word out about your new site and be sure you snag the right visitors.
I want to show up when people Google for "Miami sports photographer."
Take a look at our SEO guide to see how to choose good keywords, where to use them on your site, and lots more to get traffic flowing.
Go pro! Brand and sell.
Ready to take things to the next level? These features will help Portfolio and Pro plan users complete their site set-up and hit the ground running for sales.
Where do I add my brand?
The simplest way is to set up your profile and add your name, contact email address, social links, and a short intro about your business. You can also add your logo via a logo content block using SmugMug's customization tools.

How do I set my own prices for prints, gifts, and downloads?
In your navigation bar, click on your Selling Tools  Pricelists Manage Create New  to choose your lab and set up your first pricelist. Once you've added products you want to sell and save your pricing, it'll apply to every gallery on your site.
Tip: While logged in you'll continue to see base pricing, not your custom pricing. To preview what your guest will see for pricing, log out, or view your site in an incognito browser window.
How much do I keep?
You keep 85% of the profit you earn on every sale.
How will I get paid?
Electronically via direct deposit (PayPal for those not in the U.S.). You'll need to visit your Account Settings and fill out your Tax and Payment info so we know who you are. We'll automatically include you in our monthly payment if you have more than $500 in unpaid profits by the end of a month, or you can choose to be included even if you have less than the $500 threshold. Alternatively, you can opt to have us withhold payments until you tell us otherwise. Learn all about getting paid.
Can I sell to people outside the U.S.?
Of course! Our print labs ship anywhere in the world. We currently have labs in the U.S. and Europe, and your customers can buy in one of the planet's top 10 currencies.
Can I customize the delivery box?
Pro plan users can include a thank-you print with each order, add stickers, and customize the return address label. Read more about order branding.